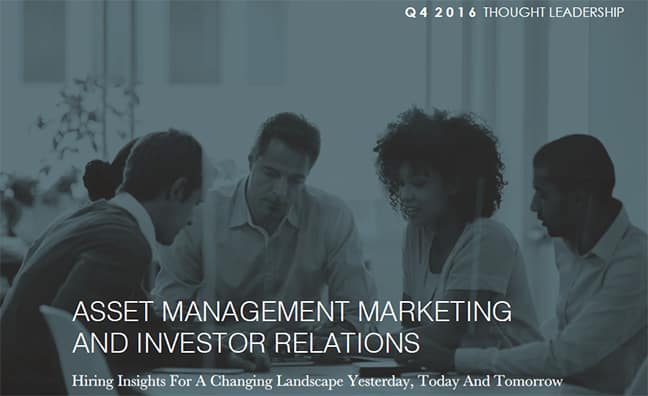 In the link below please find our Q4 Thought Leadership piece entitled Asset Management Marketing & Investor Relations; Hiring Insights for a Changing Landscape Yesterday, Today, and Tomorrow.
This paper is designed to update you on market movement, hiring insights, and the expansion of our Marketing & Investor Relations Search Practice here at Solomon Page.
Briefly, here is an excerpt from our Thought Leadership paper forecasting Q4 and 2017 hiring trends...
While the demand for client-facing professionals remains strong, we believe new marketing hires will be sector specific, as opposed to mass hiring, particularly systematic and private strategies.
There will likely be a continued decrease in consultant relations and product specialist roles, as firms will expect senior marketers to cover those responsibilities. Consultant relations and product specialist roles are expensive hires, and have the potential to be ultimately viewed as cost centers.
Junior and midlevel client-facing investor relations roles will continue to be a strong area for recruitment to support the senior hiring boom over the past two years, predominantly in credit.
Private strategies will likely become the focus in asset management recruiting for marketing roles, as the asset base is more stable, and investors are no longer shying away from locking up money.
Long/short equity hiring will make a comeback. There has been virtually no hiring in the space for the past 3 years, and turnover and retooling are inevitable.
Whether you and your company are seeking a recruitment partner to address your hiring needs, or you are looking for more color on potential opportunities, we look forward to answering your questions.
Written by Alexis DuFresne