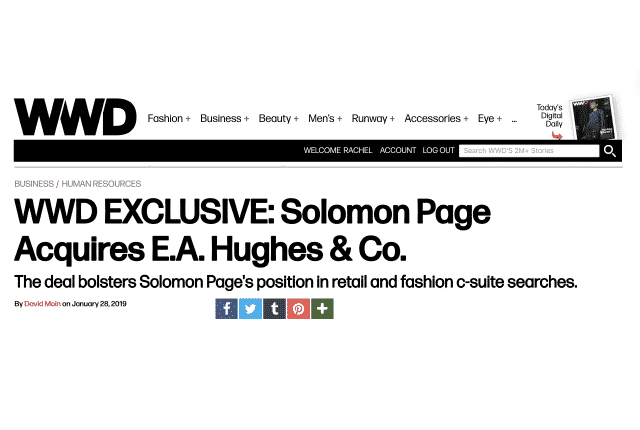 The deal bolsters Solomon Page's position in retail and fashion c-suite searches.
As seen in WWD.
By David Moin on January 28, 2019
Solomon Page, a $185 million staffing and executive search firm servicing 14 different sectors, has acquired E.A. Hughes & Co., a retained executive search firm.
"Our primary driver of growth historically has been organic," said Lloyd Solomon, a founding partner and managing director of Solomon Page. "We attract experienced people, add to the team and build our service offerings. But selectively, when we see something we consider unique and special and circumstances coincide, we will do an acquisition and incorporate their team into ours to create a bigger family and better services for clients.
"We've done about four acquisitions over our 28-year history, in health-care executive search, the publishing search space, in the legal staffing world and technology," Solomon said. "E.A. Hughes really extends our reach in the fashion retail consumer goods space and becomes a division. They retain their group, and operate autonomously and collaboratively with our existing fashion team."
Solomon added that E.A. Hughes' expertise in c-suite searches complements Solomon Page's strength in full-time recruitment and freelance hiring, thereby providing Solomon Page with a "broader" approach.
Financial terms of the deal were not disclosed.
The E.A. Hughes team of eight will continue to be led by Elaine Hughes, who founded E.A. Hughes & Co. in 1991. The boutique executive search firm has been serving the retail, apparel, footwear, beauty, home and e-commerce sectors, among others.
She reports to Solomon, and joins Solomon Page's fashion and beauty division, led by managing directors Sue Lamoreaux and Patty Hoban Scott.
"Elaine has influenced the careers of many senior executives in retail and fashion and advocated for women in the industry by example and involvement in many organizations during the past three decades," Lamoreaux said.
Hughes underscored the "synergies" accomplished by combining the two firms, and that the deal gives Solomon Page a broader scope of talent acquisition encompassing Csuite executive search, mid-level searches, as well as staff jobs such as sales associates.
As Hughes sees it, inadequate search is a big factor behind the industry's high rate turnover at the c-suite level. Many search firms, she suggested, neglect conducting the proper "deep dive" into the candidate's functional talents, experience and E.Q. to determine whether he or she is a good fit for the organization doing the recruiting and its culture. "No one really assesses it all," Hughes said.
Recently, Lisa Berger, formerly with the 24 Seven recruitment agency, joined Solomon Page to launch its beauty segment.
"In the ever-evolving landscape of human capital and business models, our goal is to adapt to shifts in the marketplace and create a multifaceted approach to our clients," Solomon said.
The New York-based Solomon Page, founded in 1990, has 275 employees, 10 offices in the U.S., and one in London. Scott Page is also a founding partner in the company and managing director.