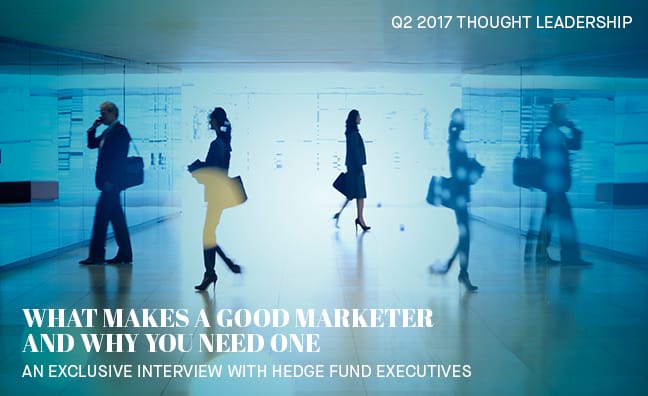 WHAT MAKES A GOOD MARKETER AND WHY YOU NEED ONE
An Exclusive Interview with Hedge Fund Executives
Written by: Alexis DuFresne, Managing Director, Marketing & Investor Relations Search
Solomon Page, Financial Services Division
---
My professional career has been dedicated to the success of marketing and investor relations functions within asset management. I spent a great deal of time and passion educating managers on the roles of marketing and investor relations, as well as creating a case for successful hires. During the course of my conversations with prospective clients, the most frequent question I receive is, "Why should I invest in marketing hires?"
To get to the root of this question, I asked three industry leaders to provide commentary from their prospective: a hedge fund manager, an allocator, and an asset management COO/marketer.
Michael Vranos, CEO and Founder of Ellington Management Group, a $6.5bln AUM hedge fund, spoke to me about how he thinks about his marketing team and their responsibilities. Having been in the game for over 20 years, and a widely regarded industry legend, he has seen the evolution and importance of marketing.
Chris Cutler, Senior Hedge Fund Due Diligence Analyst and Founder of Manager Analysis Services, spends a significant amount of his time speaking with marketers who solicit his allocation. His feedback on what resonates with him when he meets marketers is truly valuable.
Alex de Calice, Founding Partner, COO, and Head of Marketing at Nara Capital, added his view on the challenges marketers face on the front lines. He is a top marketing professional and management executive who has built and managed marketing teams.
The major takeaways were clear; marketing is an essential part of an asset management organization, and the role is constantly evolving. All commentators agreed that it has become increasingly harder to attract assets, and therefore the bar for marketers has been raised.