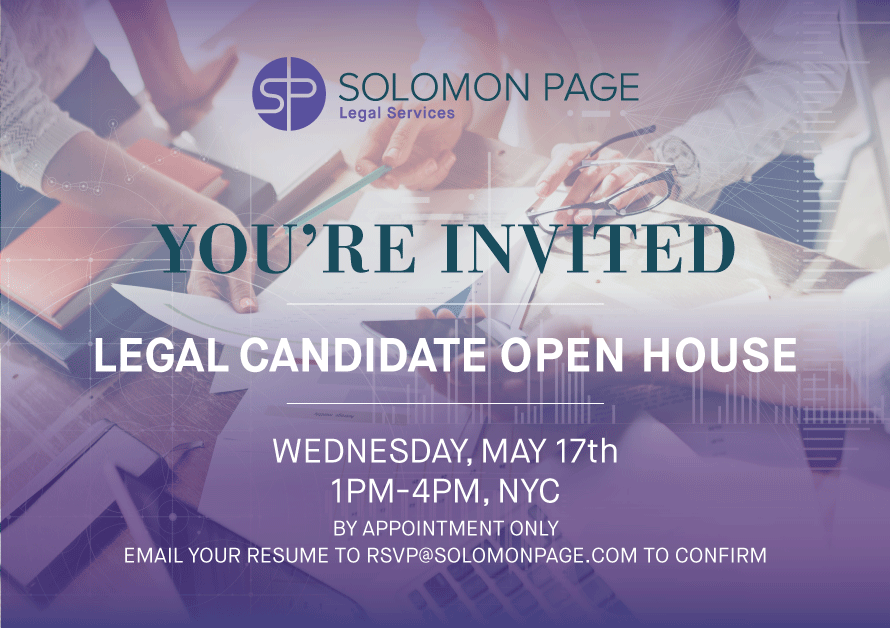 YOU'RE INVITED
Solomon Page Legal Services Candidate Open House
Wednesday, May 17th
1:00pm - 4:00pm
Join the Solomon Page team to enjoy light refreshments while registering for exciting upcoming legal opportunities. We have new projects every week, and are eager to meet document review attorneys of all levels. Registering with Solomon Page is an important first step for consideration. Informative group sessions will be held to discuss the benefits and the resources provided to our exclusive community.
Added bonus! Brush up your resume with Legal Services East Coast Managing Director Julie Favetta, who will be hosting Resume Workshops throughout the day. These workshops give you exclusive access to over 20 years of experience working with clients and placing candidates at Top 50 Law Firms and Fortune 500 Companies.
To confirm your attendance, please RSVP before May 14th by emailing RSVP@solomonpage.com with your resume attached and preferred time slot:
1:00PM - 1:30PM
1:45PM - 2:15PM
2:30PM - 3:00PM
3:15PM - 3:45PM
Space is limited and we will only be able to meet with individuals that RSVP with their resume to the email address noted above. We look forward to seeing you soon!