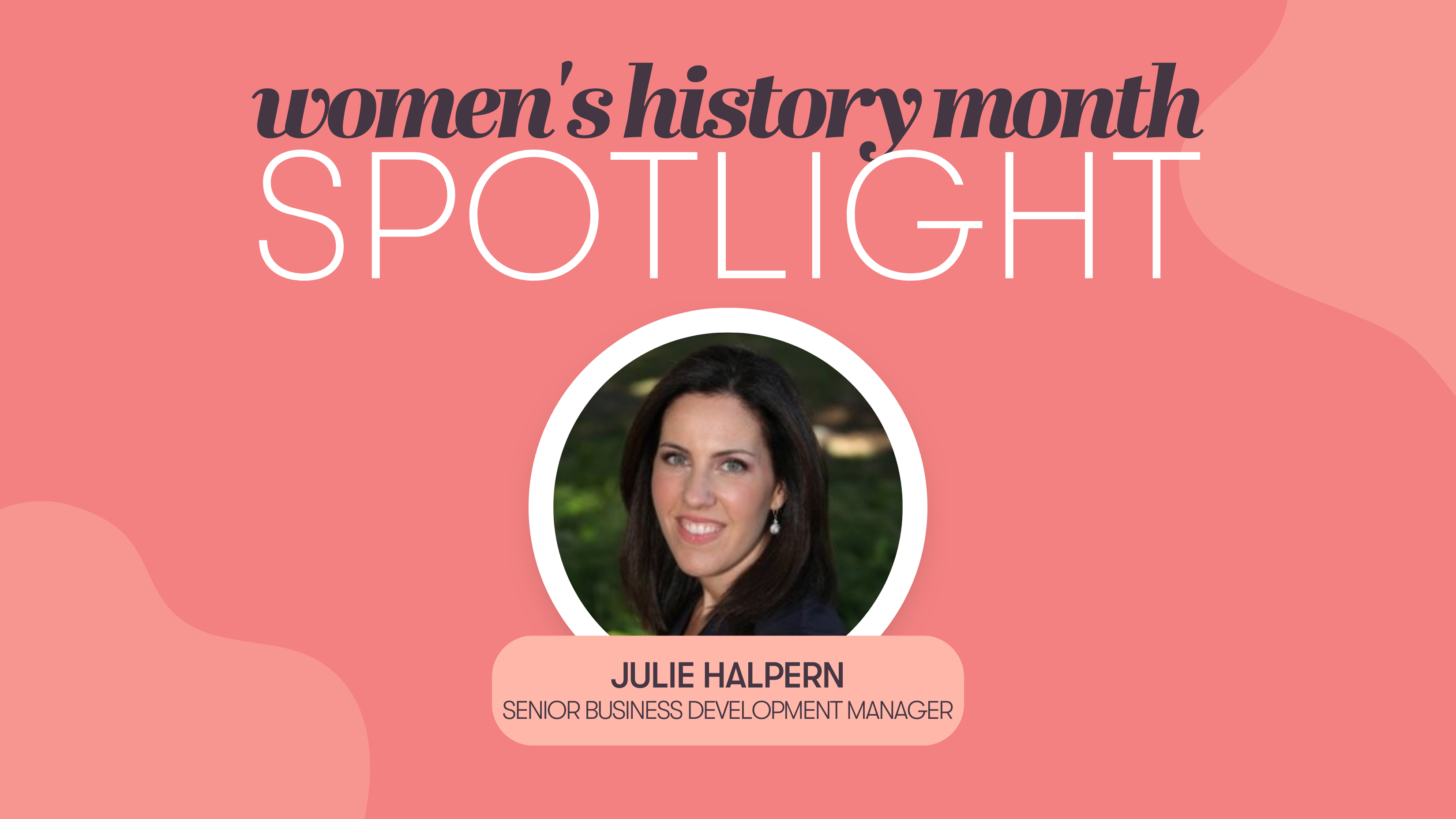 In celebration of Women's History Month, we honor women's contributions to art, science, social justice, and more. Credited with the establishment of National Women's History Month in 1980 by the National Women's History Alliance, the organization announced "Celebrating Women Who Tell Our Stories" as the 2023 theme. Holding a vital role at Solomon Page for over 30 years, women have successfully helped build a culture that values, respects, and empowers everyone. The following employee spotlight celebrates our talented team member Julie Halpern, Senior Business Development Manager from our Creative & Marketing division.
Briefly describe your path to get here:
I began my career as a research intern at The Late Show with David Letterman, followed by 10 years at VH1 casting talent and celebrities for hit shows. After that, I spent a chunk of time in marketing at Caesars Entertainment. Today, I have the privilege of working at Solomon Page in creative, marketing and digital recruiting for an array of clients.
My entire career has led me to helping my clients build their creative, marketing and digital teams. From TV to hospitality-marketing and now recruiting, my entire career has had one overarching theme in common: understanding the needs of my clients.
Have you drawn professional inspiration from other women? Who has inspired you?
Absolutely! I count the founder of Spanx, Sara Blakely, among women who I admire. Despite having no experience in fashion, retail or business leadership, she was once named the youngest self-made billionaire in the world. That's amongst women AND men! How cool is that? She's said, "don't be intimidated by what you don't know" which has inspired me to pivot three times in my career within different industries.
What are the best ways female workers can support each other in the workplace?
The best way women can support other women in the workplace is by being approachable and offering help. If you champion success and celebrate each other's achievements, then you've fostered an environment steeped in job satisfaction, teamwork, and pride. A total win!
How do you balance your career, personal life, and interests?
A daily schedule helps me balance my career with my personal life and my interests. I keep a running list of tasks and once completed, I highlight each task and if anything is left undone, it stands out the next day. There is a sense of accomplishment when you visually see what you've gotten done each day.
What advice would you give to a woman starting her career?
Dream big and go for it! Also, persevere.
Coming out of college, I knew that I wanted to work for VH1. I was obsessed with music and having done three internships at The Late Show with David Letterman, opened up my eyes to the world of TV production.
Every day for one month I called the internal recruiting department at MTV Networks to see if a role had opened up. After all, this was before LinkedIn! Still, I networked the old-school way asking everyone I knew to make introductions to anyone they knew in TV. My persistence paid off. Not long after, I got a call that a role had opened up at VH1.
How does the creative and marketing industry support women?
We are individuals but we are also caregivers by nature. That character trait has allowed us to bring a level of understanding into the workplace. Since the beginning of time, we have run households and communities. That holds true today, but we are also now running organizations, companies and so much more. I think the creative and marketing industry understands this multi-faceted effect that women have, and that's why today, it's predominantly female.
How does being a woman in the creative and marketing industry inform your position or relationship with the industry?
So much of what makes marketing tick is driven by women. For instance, because marketing must attract consumers based on the values and principles that one has in common with a brand, it is essentially the brand's value that marketers are promoting. To pull this off, you need to have a sensitive and relatable personality. That's women!
So it's no shocker we bring such a diverse perspective to the creative and marketing industry and are driving results faster than ever. I can certainly relate to that!