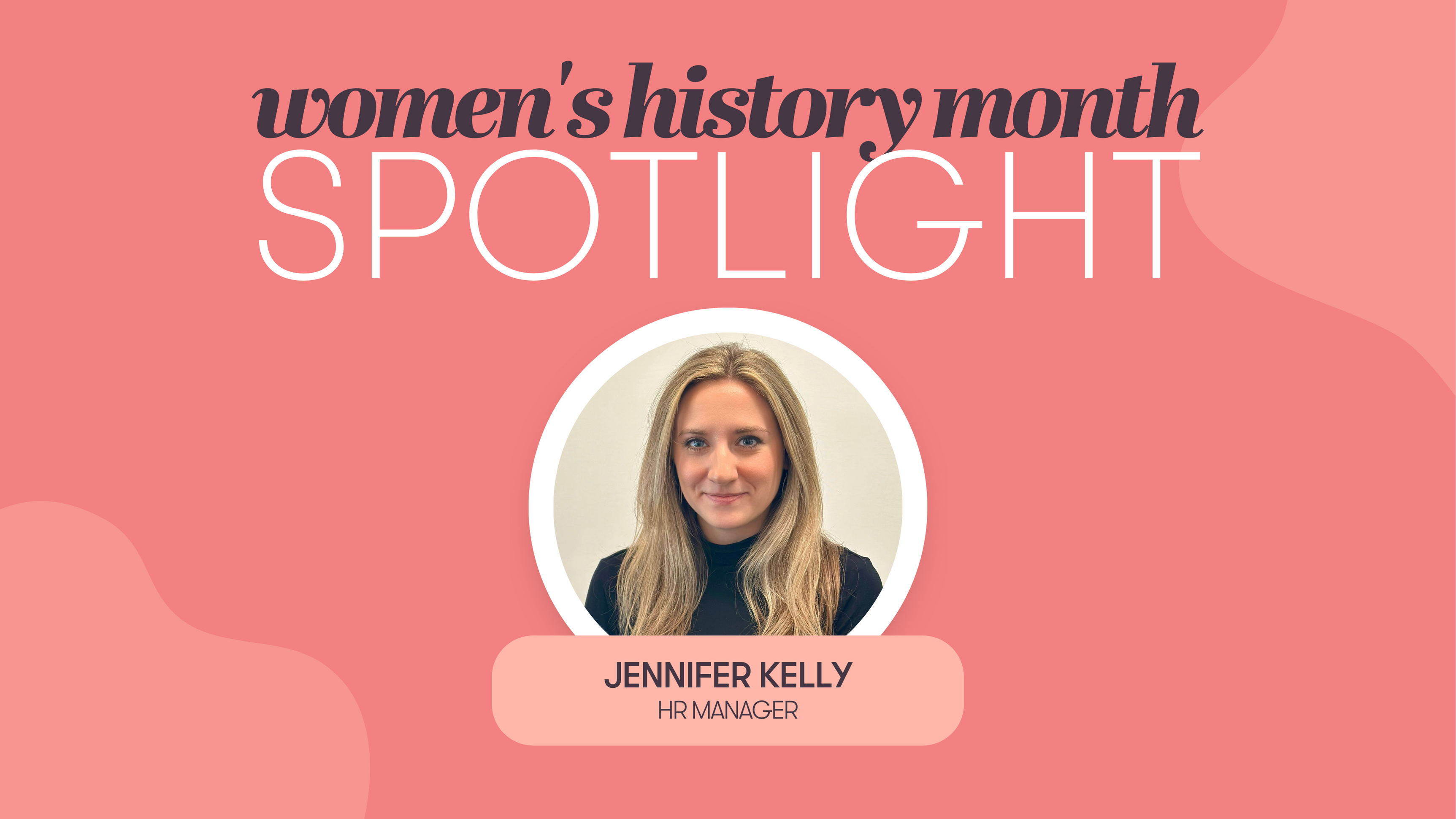 In celebration of Women's History Month, we honor women's contributions to art, science, social justice, and more. Credited with the establishment of National Women's History Month in 1980 by the National Women's History Alliance, the organization announced "Celebrating Women Who Tell Our Stories" as the 2023 theme. Holding a vital role at Solomon Page for over 30 years, women have successfully helped build a culture that values, respects, and empowers everyone. The following employee spotlight celebrates our talented team member Jennifer Kelly, HR Manager from our Corporate Human Resources department.
Briefly describe your path to get here.
After graduating from Penn State in 2014, I started my career at Solomon Page as an administrative assistant for the Accounting and Finance Temp division in Connecticut. After two months into the position, I moved over to an HR Staffing Coordinator role. In 2020, we started our Healthcare Staffing division which was a huge learning curve for me. This allowed me the opportunity to become an HR Staffing Manager in 2021 where I led a team of HR Staffing Coordinators for Accounting and Finance Temp, National Accounts, and Healthcare Staffing. In March 2022, I was promoted to HR Manager to work with our corporate HR team.
Have you drawn professional inspiration from other women? Who has inspired you?
I am fortunate enough to work under the management of Kathy Brown who is not only an exceptional leader, but also a mentor who challenges me each day to be my best professional self. I also work with an incredible team of women who continue to inspire me every day!
How do you balance your career, personal life, and interests?
I like to keep myself organized by prioritizing tasks that need to be completed first thing each morning. This helps to keep me on track so I can shut down work at an appropriate time. I also try my best to schedule after work activities whether it be dinner with friends, a workout at the gym, or a hobby I enjoy. It's important to create a healthy work-life balance to avoid burnout and reset your mind for more productive workdays.
What advice would you give to a woman starting her career?
My advice would be to take every opportunity to learn as much as you can. To always stay curious and ask a lot of questions. Surround yourself with people who know more than you and gain as much perspective as possible.
What makes you confident?
What makes me feel my most confident is approaching every challenging situation I come across with the mindset that I can do anything. It's amazing what a positive mindset can do for you!
What are the benefits of having women support a company on a corporate level?
A huge benefit of women working on a corporate level is the perspective that we bring. We are great listeners, communicators, and collaborators. These are vital skills that help create a positive workplace culture. We have so many women here that help make this company great!
What motivates you and how do you continue to remain productive?
What motivates me is my desire to help people, which is why I love what I do! I enjoy being a resource to help people solve problems.