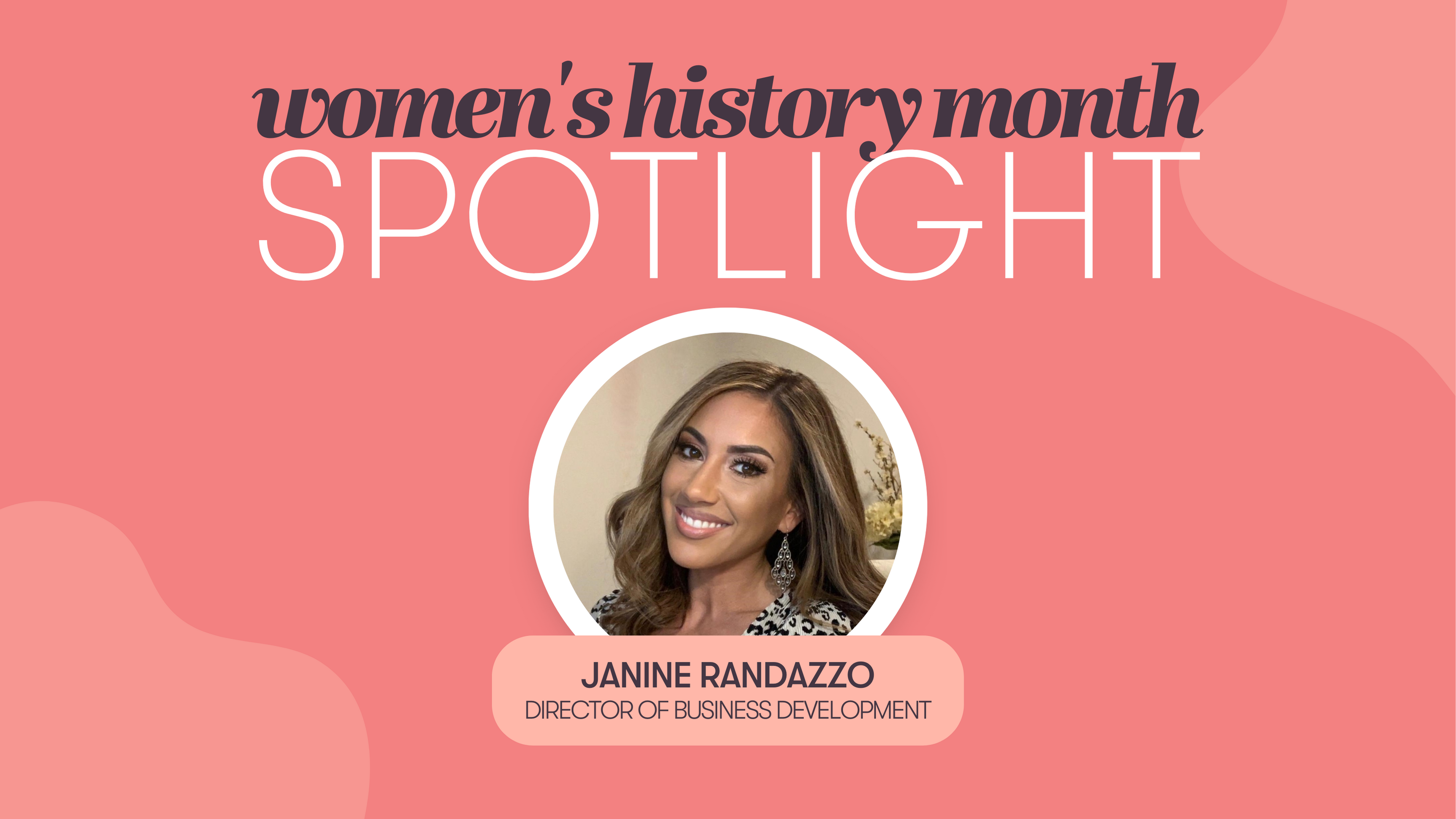 In celebration of Women's History Month, we honor women's contributions to art, science, social justice, and more. Credited with the establishment of National Women's History Month in 1980 by the National Women's History Alliance, the organization announced "Celebrating Women Who Tell Our Stories" as the 2023 theme. Holding a vital role at Solomon Page for over 30 years, women have successfully helped build a culture that values, respects, and empowers everyone. The following employee spotlight celebrates our talented team member Janine Randazzo, Director of Business Development from Clinical Resource Network.
What advice would you give to a woman starting her career?
Ask yourself if the work you are doing today is going to serve you tomorrow, 10 years from now, and so forth. Identify what inspires your purpose and your goals, then be clear in identifying the steps you will take to achieve them. Find and use resources! It is okay to feel nervous and uncomfortable in the idea of taking risks and it is also okay to make some errors and face challenges along the way. Know that those experiences will be learning moments for you and will make you better in utilizing your gifts/craft, and bring you to your most enjoyable, rewarding moments.
What do you hope to see for the next generation of women?
The next generation of women is already so impressive and inspiring to me. Seeing young women supporting and embracing other women of all diverse backgrounds creates community, openness, and understanding. It paves the way for future generations of women when they can see themselves in the examples of leading women who they are inspired by.
What is your definition of female empowerment?
The greatest power you have is being your unique woman self, whatever that looks like! Being a woman is a powerful force and remembering the history of past women's work and initiatives that has brought us to this point today.
What makes you confident?
Being strong in my intentions, convictions, and morals while also being flexible and open-minded in other areas. Much of the (self) work that has led me to this point includes overcoming in the face of adversity, taking a bit of risk, and having grace for myself and others. Leading with kindness, transparency, openness, and genuineness are my key values and I feel most confident in environments and communities that foster and embrace those qualities as an individual and within the collective.
How do you balance your career, personal life, and interests?
Making sure that self-care is a priority. Scheduling productive and quality time in the workplace and with my social circle, knowing when to take (brain and body health) breaks, and finding joy makes me a better person for myself and those people and initiatives I wish to be most purposeful with. The pandemic and working from home remotely surprisingly offered me much more time to be productive in focusing on all the above.
How does being a woman in clinical research staffing inform your position or relationship with the industry?
Being a woman in a women-driven staffing industry and women-driven clinical research industry paves the way for other women to find their space in those industries going forward. It inspires meeting other women who have likely encountered similar experiences and are breaking barriers by assuming their positions daily and making an impact in those environments. It inspires future generations of women to envision themselves in these types of positions in the workplace and in their social lives.
Have you noticed a movement towards more diverse recruitment?
Something that entices me about my industry is the ability to further foster a diverse recruitment field. We find opportunities for those of diverse backgrounds who work in the industry itself, then subsequently impact a clinical trial of a diverse patient/participant enrollment population. My initial interest in the cause was demonstrated during my early college career where I recruited for, led, and conducted multiple studies in the areas of social and psychological gender differences at the college's gender sociopsychology lab. With hands on experience interviewing a diverse participant enrollment group based on the study's criteria, then ultimately conducting therapeutic treatment within a clinically diverse patient population in my later years, I've always been motivated to be entrenched in a field that nurtures necessary diversity and inclusion.