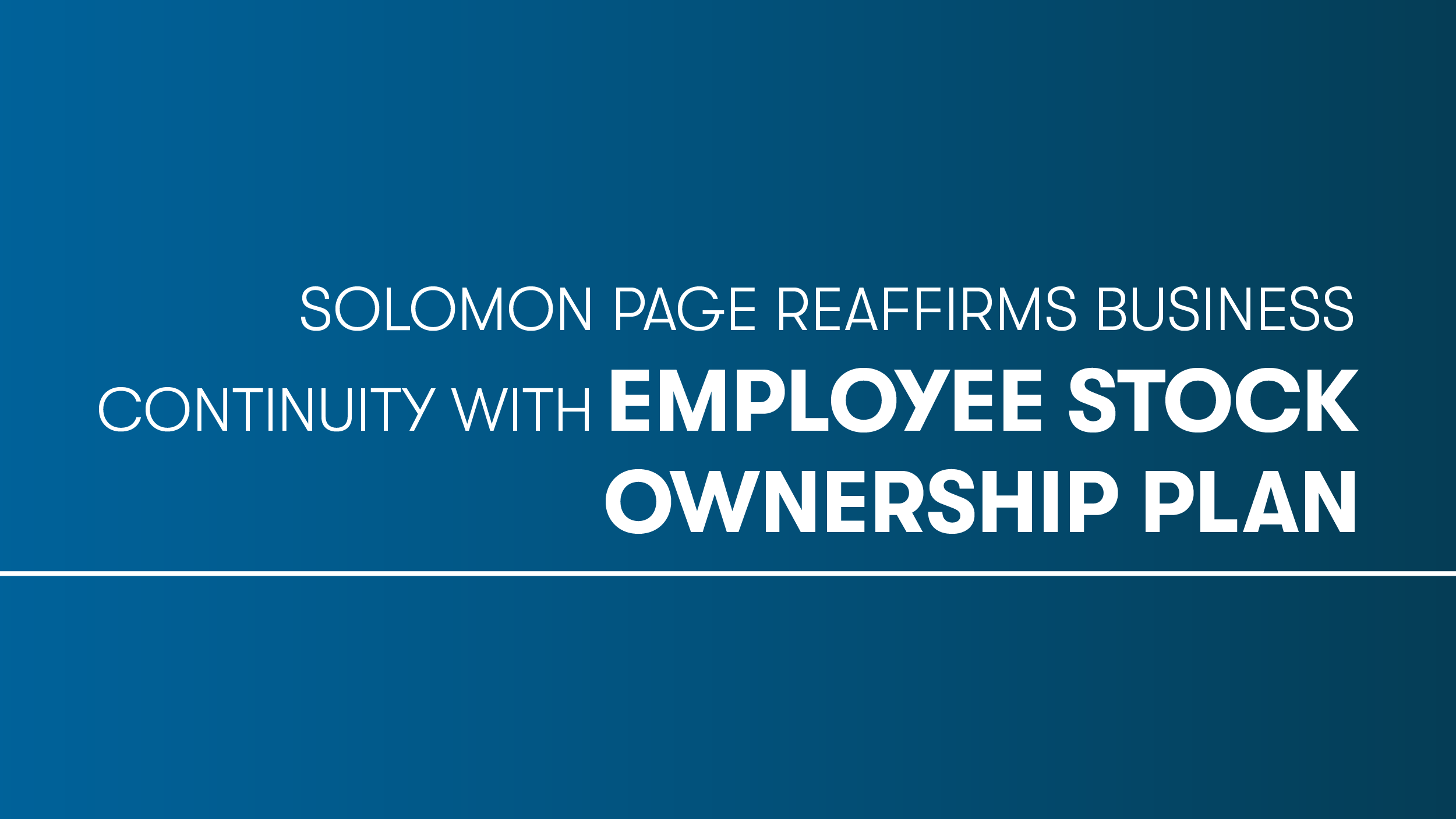 New York, N.Y. – Solomon Page announces the successful completion of an Employee Stock Ownership Plan (ESOP) transaction following its 30-year anniversary to reaffirm its vision and commitment to creating long-term value for the business. In looking ahead, the company sought a strategy that would allow it to retain control of its future, provide financial diversification, and give its employees an opportunity for a deeper connection to the firm. This transaction, funded by IDB Bank, represents the interests of all internal stakeholders as well as the firm's valued clients and candidates.
"The timing of this transaction is a true testament to the confidence we have in our platform, strategy, and most importantly, people, as we navigate the challenges presented by the pandemic," said Founding Partner & Managing Director Lloyd Solomon. "We believe each and every person to be a valuable part of the successes achieved and rewarding employees for what we have accomplished will not only offer security, but confidence in our plans for the future."
According to the National Center for Employee Ownership, there are nearly 7,000 ESOPs currently operating nationwide, covering 14.2 million employees, with plans designed to reward employees for loyalty and longevity. For Solomon Page, over half of the employees have been with the organization for over five years, and 30% for over a decade. This long-tenured employee population, in addition to the culture and core values that Solomon Page has established over the past three decades, have served as critical factors throughout this process.
"This is a long-term strategy and does not alter the company's culture or direction," said Founding Partner & Managing Director Scott Page. "In thinking about the next phase of our business, it is essential to consider the things that we value today, but more importantly tomorrow, as we continue to evolve as a business in the years to come."
"This particular transaction is one that we are proud to have financed during 2020," said Chief Lending Officer Lissa Baum. "During times like these, having the ability to add value and benefit the lives of our clients is important to IDB. We proudly support Lloyd Solomon and Scott Page for their commitment and vision to enhance and benefit their employees by providing them future ownership value."
About Solomon Page
Founded in 1990, Solomon Page is a Manhattan-based recruitment firm with service offerings ranging from C-suite executive search to contract staffing across a wide array of functions and industries. The company has grown into one of the top privately held companies in New York with over 300 employees, 14 divisions, and 16 office locations across the U.S. and London. Solomon Page was recently named one of the Top Privately Held Companies in the New York Area by Crain's New York Business, Best Workplaces by Inc. Magazine, and America's Best Professional Recruiting Firms by Forbes. For additional information, visit solomonpage.com.