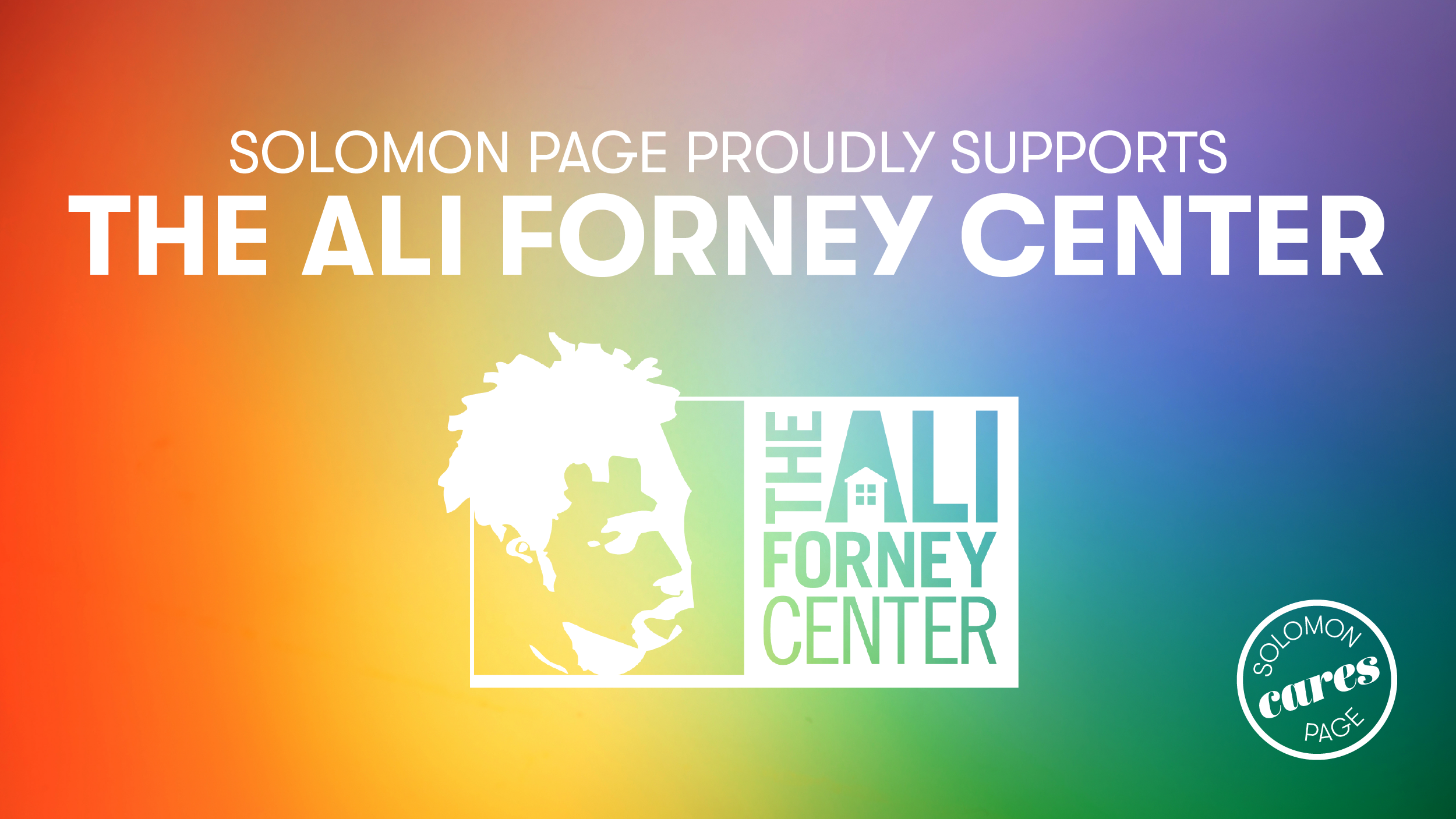 Solomon Page is honored to support the Ali Forney Center (AFC) through our SP Cares initiative. Founded in 2002 in memory of Ali Forney, a gender-nonconforming youth who lived on the streets of New York City, the non-profit protects LGBTQ+ youth from the harms of homelessness. Providing more than a place to sleep and eat, the Ali Forney Center's 24-hour program empowers young people with the tools needed to live independently. In addition to fundraising for the organization throughout the months of June and July, Solomon Page spoke with Alexander Roque, President & Executive Director at the Ali Forney Center, about the organization's work and upcoming events in New York City.
Resilient Beginnings
Following the tragic murder in 1997 of Ali Forney at the age of 22, a friend of Ali's, Carl Sicillano, founded the Ali Forney Center in response to a lack of safe places for homeless LGBTQ+ young people to access services and begin a new chapter in their life. From the organization's humble and ambitious beginnings, with just six cots in the basement of a church, AFC has become the largest provider of shelter and wrap-around services in the United States that is dedicated to serving homeless LGBTQ+ youth ranging from ages 16-24.
Moments of Joy through Hardships
About 40% of the homeless youth population in New York City are LGBTQ+ young people. Alex stated, "The majority of homeless LGBTQ+ youth are homeless because of family rejection and/or abuse because of their LGBTQ+ identity. Religion is the number one reported cause of parental rejection. Despite the traumatic experiences of homophobia and transphobia, to the point of being kicked out or running away from home, our youth are extremely resilient." Resiliency, a key theme across the LGBTQ+ community and its history, has become essential to continued growth. The Ali Forney Center has responded to society by evolving and expanding over the past 21 years through the refinement of its services. Listening to each young person that interacts with AFC has been imperative to growing the organization as each young person brings a unique story that can better inform the center's work.
Remaining a unifying presence in the LGBTQ+ community, AFC continues to support youth while negative actions towards the LGBTQ+ community are still present in our society. Describing the influence on their youth, Alex stated, "Our youth are aware of the growing violent rhetoric, discrimination, and attacks on our communities – they have experienced it by those who were there to love and care for them. AFC provides clients with access to mental health, medical health, art therapy, movement therapy, case management, housing navigation, job readiness, and internship support to name a few."
Creating a sense of love and acceptance is imperative to building a future where young people can positively grow. Alex stated, "AFC also creates moments of joy and community among our youth. Youth Prom is an event where our youth vote on their prom royalty and elected royalty are invited to ride on the AFC float during NYC Pride March. We host Field Day, Talent Show, Fall Ball, Winter Carnival, and a number of other large and small group events that help build affirming spaces and communities for our youth." These moments of joy form a sense of community and identity. Within these safe spaces, young people in the program can become the people they want to be. Alex expressed, "[Our youth] are filled with hopes, dreams, and ambitions that when nurtured, they will see those aspirations turn into realities."
Writing New Chapters
The Drop-In Center became the first 24-hour drop-in program for homeless LGBTQ+ youth. The center has become a centralized space that promotes a sense of community even when the young person may feel isolated. Essential to creating a sense of growth and respect for young people, the AFC Drop-In Center serves as a place to connect AFC clients with services and resources including clothing, food, showers, laundry, medical, mental health, and more. Alex continued, "For many of our youth, connecting with peers is a needed resource. We want our youth to know that they are not alone and connecting to a supportive community goes a long way in supporting positive youth outcomes. Our Drop-In Center and residential homes are a safe haven for youth to be their authentic selves around others." The Ali Forney Center is more than just a place to sleep or eat. The organization meets the needs of the youth by creating educational opportunities, internships, case management services, housing navigation, teaching youth how to budget and open a bank account, job readiness, and mentorship – all preparing individuals or life beyond AFC.
Looking Ahead
The Ali Forney Center's inspirational and necessary work has reached over 2,200 youth in 2022, with intentions to continue growing its services to meet the needs of LGBTQ+ youth in the future. Looking ahead, the organization seeks ways to expand housing opportunities for youth, while reimagining new housing developments. Originating from a horrific tragedy, Ali Forney Center has become the nation's largest provider of shelter and wraparound services for LGBTQ+ youth, transforming the lives of homeless LGBTQ+ youth and supporting the next generation. AFC provides technical assistance and consulting services free of charge to partner organizations; 44 organizations across the country, 10 around the world.
The Ali Forney Center hosts several events throughout the year including OASIS, their Summer Benefit in July, Serve Dance-a-Thon in November, and A Place at the Table, their annual gala in May. Their events are intended to engage the public in learning about the Ali Forney Center, its stories, and develop new opportunities to support their work. However, people can support the Ali Forney Center all year by sharing the organization's mission with family and friends, donating, and volunteering. Sharing the Ali Forney Center with anyone who may need their services or support is essential in helping our communities prosper.
Solomon Page would like to thank the Ali Forney Center for contributing to this article. We are honored to share the voices of AFC, and other organizations within our community, through our SP Cares initiative. Looking to get involved with the Ali Forney Center? Register for an upcoming event by following the Ali Forney Center on Instagram, Facebook, or by visiting their website.