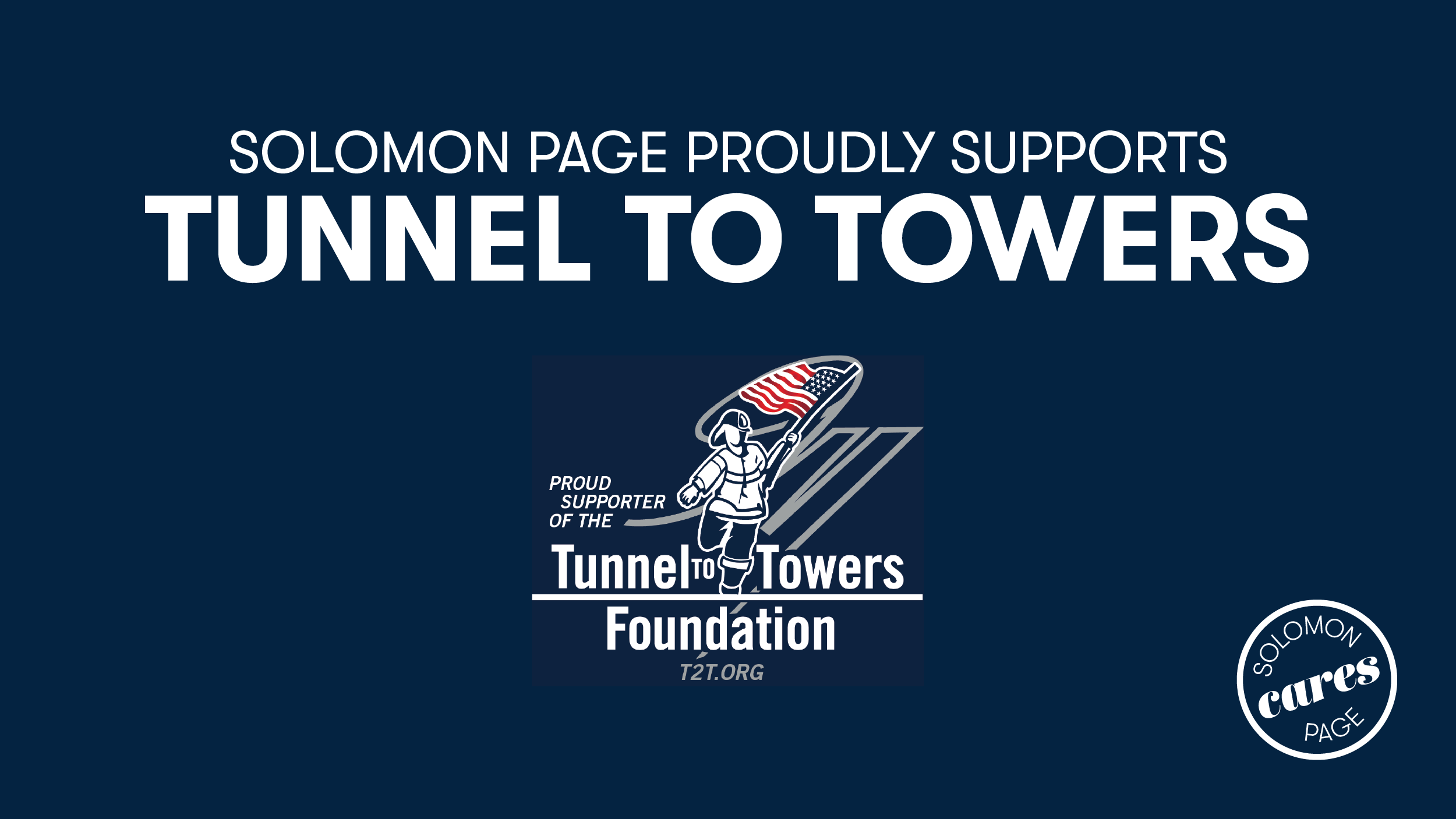 Close to the Solomon Page community, Tunnel to Towers has been a part of the SP Cares initiative for several years. A non-profit helping American heroes nationwide, Tunnel to Towers has been essential to providing mortgage-free homes to fallen active military service member families, often referred to as Gold Star families. In addition to fundraising for the organization throughout the months of May and June, Solomon Page spoke with Andrew McClure, Senior Manager of Development to discuss the organization's upcoming events, mission, and advocacy across the country.
Established after the death of NYFD firefighter, Stephen Siller, during the attacks on September 11, 2001, Tunnel to Towers commemorates Stephen's dedication and duty to serve his community. Committed to educating the public on the importance of never forgetting September 11, 2001 through events, including their 9/11 Never Forget Mobile Exhibit and National Run, Walk & Climb Series, Andrew stated, "[The events are] a tribute to all who lost their lives on September 11, 2001, including the 343 members of the Fire Department of New York City (FDNY) who made the ultimate sacrifice, and all who continue to lose their lives to 9/11-related illnesses." Tunnel to Towers continues to honor fallen first responders by not only hosting these events, but also through offering housing programs and educational outreach impacting the next generation.
Coming Home
In helping veteran and first responder communities, Tunnel to Towers' housing programs build customized smart homes for Gold Star, paralyzed veterans, homeless veterans, first responders, and their families. These homes create a sense of independence for each recipient as the homes are designed to address individual needs and ultimately help recipients reclaim their daily life. Andrew describes, "These homes host a myriad of features such as automated doors and lighting, wider halls and doorways, special showers to accommodate wheelchairs, automatic door openers, cabinets, counters, and stove tops that can be raised and lowered, back-up generators, and central heating and air conditioning systems that can be controlled by tablets." Tunnel to Towers has presented 100 custom-built smart homes to paralyzed service members, over 200 Gold Star families have received mortgage-free homes or mortgage payoffs, and about 500 families of fallen first responders have had their home mortgages completely paid off. In continuing their tremendous work, Andrew noted, "Through partnerships and grants, Tunnel to Towers was able to house and serve over 500 previously homeless veterans in 2022. In 2023, we expect to provide housing and services to between 1500 and 2000 veterans." Tunnel to Tower's inspiring work is rooted in Siller's dedication to community and country. Serving those who have served us first is vital to the organization's mission and housing programs.
The Next Generation
Engaging the next generation is essential to the organization's 9/11 Never Forget Mobile Exhibit. The exhibit serves as a tool to educate individuals nationwide about the events on September 11th. Andrew described the exhibition space that includes, "artifacts such as steel beams from the towers, documentary videos, and recordings of first responder radio transmissions. Interactive guided tours are carried out by FDNY firefighters who provide firsthand accounts of the day and its aftermath." The incredibly moving exhibition has been well-received across the United States.
Extending their outreach to the next generation. The organization developed the Tunnel to Towers 9/11 Institute. The educational curriculum is designed to educate students on the events of September 11, 2001 and its aftermath. The K-12 curriculum increases awareness of 9/11 and everyday heroes in the United States. The curriculum goes beyond basic facts but seeks to develop a greater understanding of the events, aftermath, and the attack's influence on American society and international communities through the people who lived it.
Nationwide Advocacy
Tunnel to Towers provides opportunities for people across the country to participate in events and engage with the organization's cause. The foundation's National Run, Walk & Climb Series has grown to more than 80 events across the country. Andrew continued by stating, "[The events] are carried out by volunteers who dedicate their time and talents to host events in their region." People looking to get involved in the organization can start a team for the run and walk events. Among the top 5K runs in the United States, the Tunnel to Towers 5K Run & Walk in New York City is held each year on the last Sunday in September. The event follows the final footsteps of Stephen Siller as he journeyed from Battery Tunnel to the Twin Towers, and honors the lives of FDNY firefighters, law enforcement officers, and thousands of civilians who lost their lives on September 11, 2001, and following years due to related illnesses. Expanding to over 80+ events nationwide, the Run, Walk, & Climb Series stretches from coast to coast with upcoming events in Pennsylvania, California, South Carolina, Texas, Michigan, and many more locations.
Beyond their national athletic events, people looking to get connected with the foundation can join the Young Professionals Network. Andrew described the network as, "Dedicated to connecting the younger generations to the mission of the Tunnel to Towers Foundation through events, fundraising, and professional mentoring." Volunteerism is a key factor in the success of Tunnel to Towers as events and programs are planned by dedicated volunteers that enable communities to continue the mission to Never Forget. Committed to supporting American heroes across the country, Tunnel to Towers continues to honor the sacrifices made by firefighters, law enforcement officers, service men and women, and their families who make our communities stronger.
We would like to thank Tunnel to Towers and Andrew McClure for contributing to this article. Our communities are essential to our organization, and we are honored to share their voices. Looking to get involved in Tunnel to Towers? Register for upcoming events closest to you by following Tunnel to Towers on Instagram and Facebook, or by visiting their website.