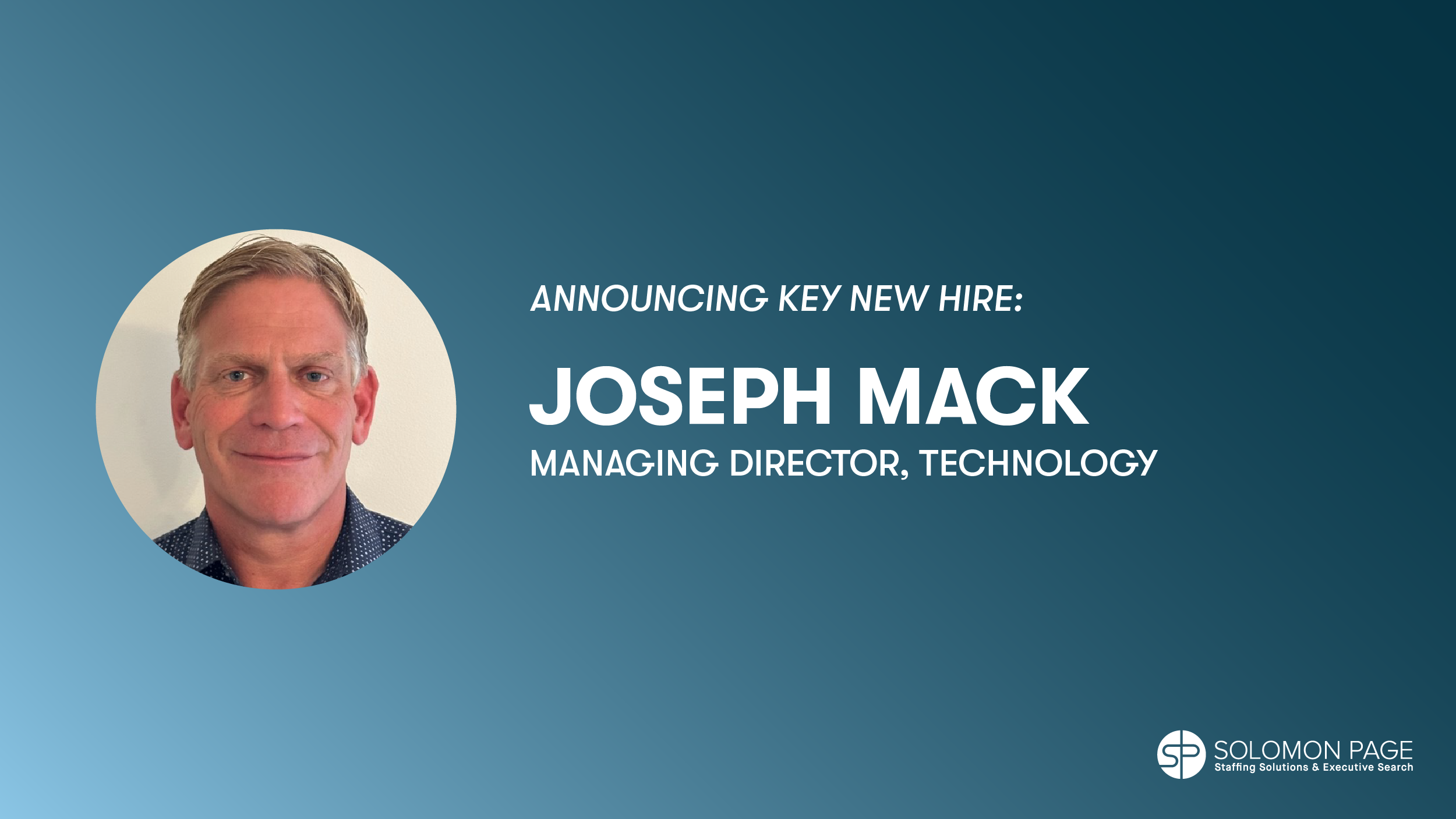 Solomon Page is pleased to welcome Joseph Mack as Managing Director of the Technology Division. Joe will spearhead growth initiatives and actively nurture enduring partnerships nationwide. Joining a team of accomplished professionals, Joe brings a wealth of experience in crafting tailored solutions that meet the needs of clients. Based in the New York office, Joe brings over 20 years of experience in the technology and staffing sectors, positioning him as a key influence in propelling the Tech Perm team into its next phase of growth and achievement.
Joe's experience in developing customized staffing solutions for leading financial services has been a testament to his ability to foster long-lasting relationships throughout the industry. Having worked across diverse roles ranging from full desk recruiting to director positions, Joe's experience in recruiting and business development has positioned him as an expert in the fintech sector. Prior to joining Solomon Page, Joe worked with The Bachrach Group, an executive recruiting and consulting firm, and held positions at Pencom Systems Incorporated, Glaxo Smith Kline Pharmaceuticals, and Stride & Associates. Beyond his professional endeavors, Joe's passion for athletics, coaching, and being a devoted father of three sons will infuse Solomon Page with his enthusiasm and charisma.
"As the new Managing Director of Technology Perm at Solomon Page, I am looking to scale, streamline, and optimize our team by reconnecting with current and past Solomon Page friends." Joe continued, "My vision is to evolve the next chapter of Technology Perm at Solomon Page."
For over 30 years, Solomon Page has excelled in placing technology professionals in key positions across a range of industries. Focusing on developing close relationships with both clients and candidates, the company's highly experienced recruitment team consistently delivers personalized results. In addition, its extensive network within the tech sector enables the Solomon Page team to connect with industry pioneers and find diverse professionals spanning a spectrum that includes programmers, developers, engineers, and beyond.
Interested in meeting Joe? He can be reached via email, jmack@solomonpage.com. To learn more about the Technology team and its service offerings, visit Solomon Page.