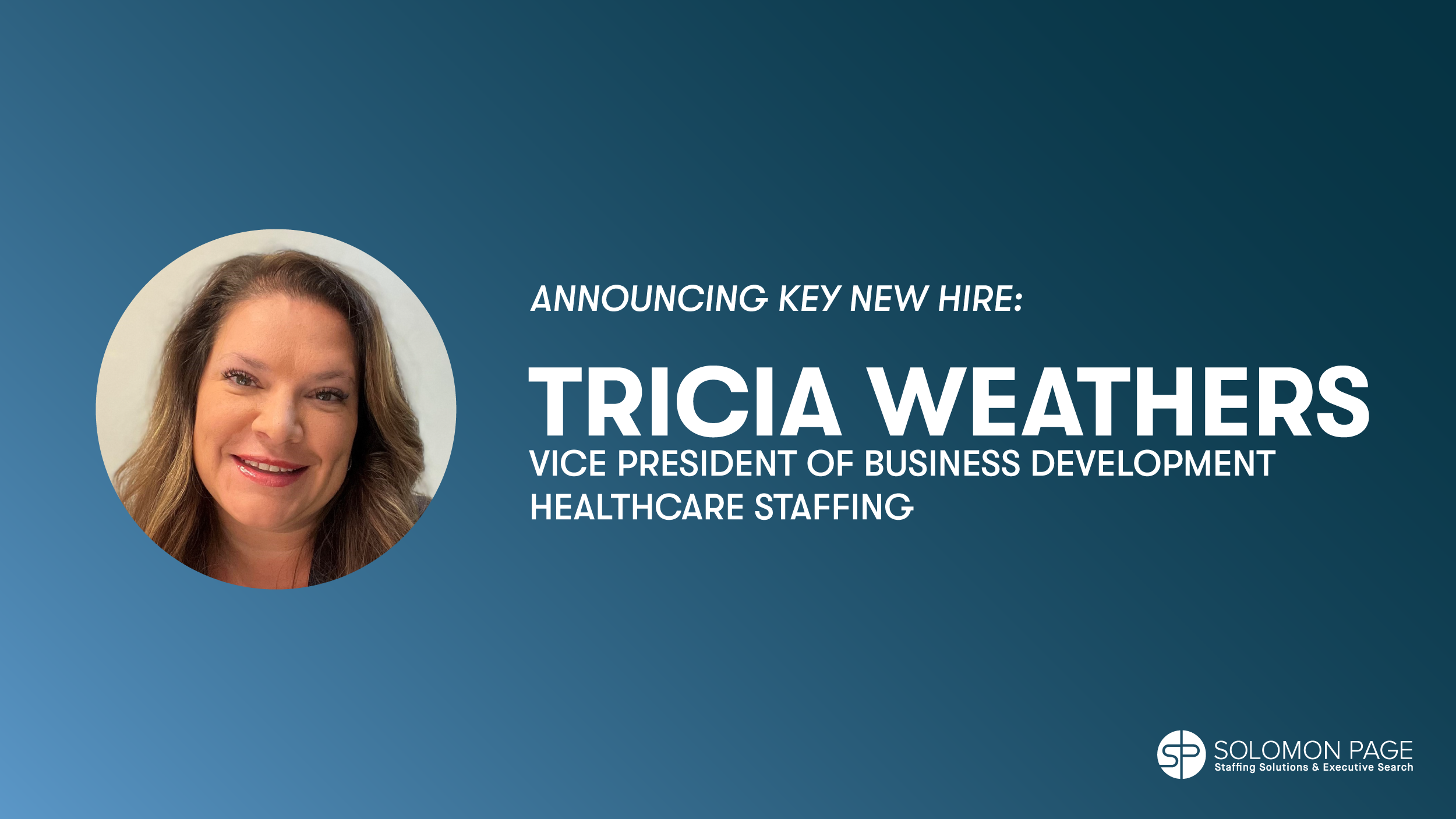 Responding to increased global demand for healthcare services, Solomon Page continues to expand its Healthcare Staffing division, which specializes in providing hospitals, medical centers, clinics, and nursing facilities with exceptional medical staff including nurses, allied resources, and locum tenens. In pursuit of building the business, Solomon Page has recently hired Tricia Weathers as Vice President of Business Development, who will lead business development initiatives under the direction of Ron DeGasperis. Based in Georgia, Tricia will be supporting the team on a national level, with an emphasized focus on building customized solutions for clients. Through this relationship-driven approach, the team strives to grow its practice and develop deep-rooted connections with the facilities that continue to persevere and make an impact within the healthcare industry.
Prior to joining the Solomon Page Healthcare Staffing team, Tricia worked in the staffing industry for over 20 years. During this time, she held both recruiting and business development positions, and worked both directly with healthcare facilities nationwide as well as partnered with Managed Service Providers (MSPs) and Vendor Management Systems (VMSs). In addition, she also made a shift to working on the healthcare client side, where she focused primarily on pharmaceutical benefit management. Throughout the past two decades, Tricia has been exposed to all the intricacies of staffing as well as the niche processes of the healthcare industry – making the expertise and insight she is bringing to the Solomon Page Healthcare Staffing team invaluable.
The Healthcare Staffing division joins other well-established Solomon Page divisions, which currently service the healthcare industry, including the Healthcare & Life Sciences executive search division and Clinical Resource Network (CRN). The Healthcare & Life Sciences executive search division has been in existence since the company's inception and consists of a team that has over three decades of experience in the marketplace. Clinical Resource Network (CRN), established in 2002, provides strategic clinical staffing solutions across many disciplines and major therapeutic areas for a range of clients – from biotechs and CROs to major pharmaceutical and device companies.
Looking towards the year ahead, Solomon Page continues to emphasize the importance of its core value, agility, in an ever-changing landscape. Through constant shifts in the industry, the Healthcare Staffing division remains focused on expanding its team of experts, with a strong vision and commitment to providing consistent, quality staffing support to a wide network of medical professionals. If interested in learning more about Solomon Page service offerings, contact hello@solomonpage.com for more information. To connect with Tricia, please email tweathers@solomonpage.com.