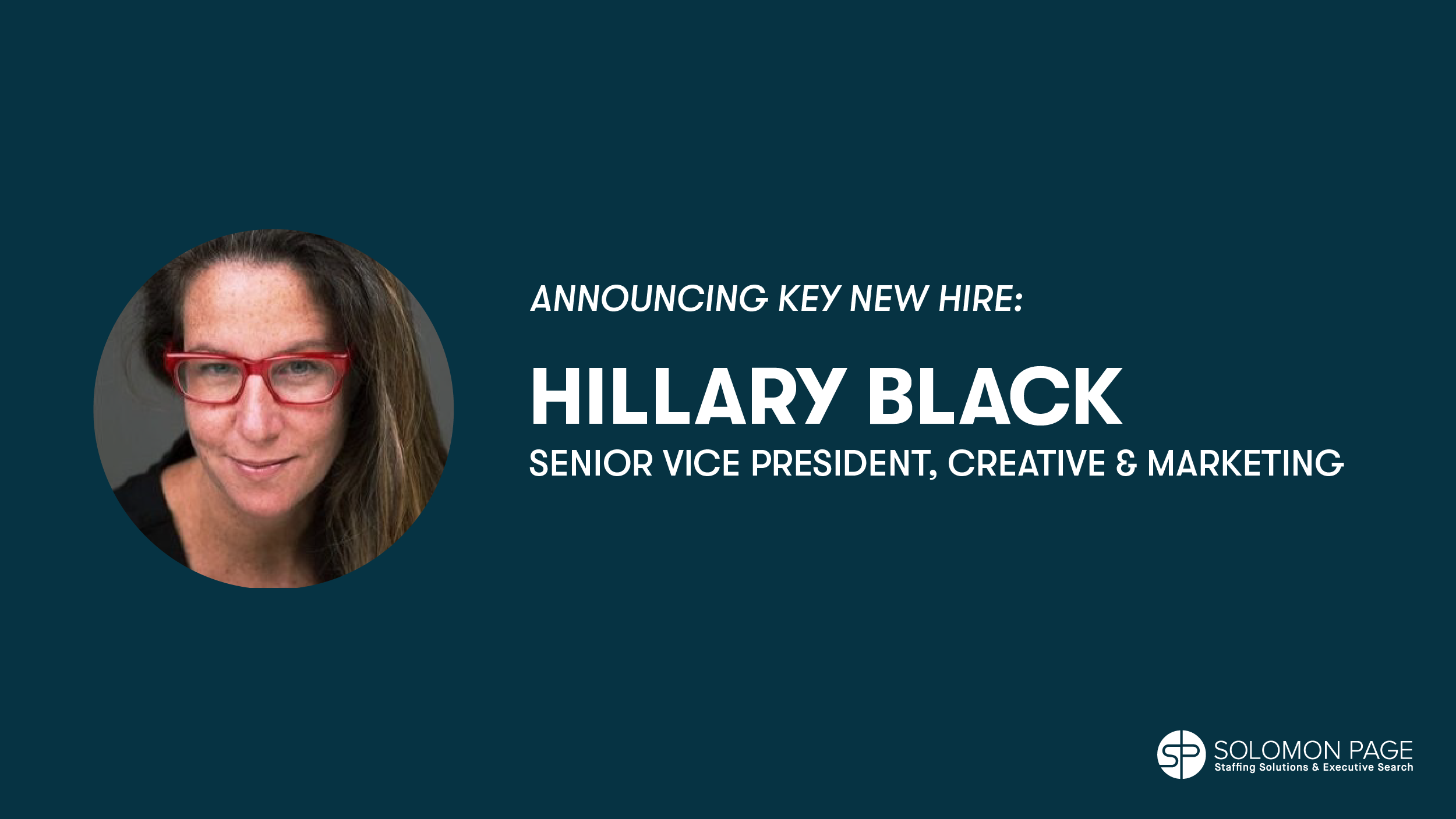 Solomon Page Creative & Marketing is proud to announce the appointment of Hillary Black as Senior Vice President of the Creative and Marketing division. With an impressive background spanning over three decades, Hillary brings a wealth of expertise in the creative industry, coupled with a steadfast commitment to enhancing freelance, direct hire, and executive search practices on a national scale.
Hillary previously served as VP, Executive Search and Global Lead for Executive Coaching at WPP, the creative industry giant. She was instrumental in representing WPP's Operating Companies, facilitating the hiring of top-tier executives globally across diverse disciplines, including CCO, CSO, CEO, and more. Prior to her experience at WPP, she co-founded Kay & Black, Talent Management, a boutique creative recruitment firm specializing in all levels and disciplines across the industry. A prominent leader in her field, Hillary possesses a unique ability to cultivate and rekindle meaningful relationships.
In addition to her extensive professional accomplishments, Hillary holds a master's degree in social work and is a certified executive coach, making her a dedicated advocate for career development. She has also made significant contributions in thought leadership teaching classes at The City College of New York and has been a leading figure in various career and creative workshops, including the 4A's, General Assembly, and She Runs It. In 2020, she co-founded Allies in Recruiting now a part of The One Club, a collective of talent recruitment professionals committed to fostering a more diverse, equitable, and inclusive creative industry.
Beyond her professional achievements, Hillary's dedication to her family and her inspiring journey as a cancer survivor define her character. She firmly believes in the transformative power of life's evolution, stating, "It's through the evolution of our life that we have an opportunity to thrive." Her personal ethos will undoubtedly leave an indelible mark on Solomon Page as she deepens her understanding of the unique needs and potential of everyone she collaborates with.
With a legacy of partnering with the world's leading brands, Solomon Page continues to construct effective organizational structures and in-house agencies. Our services are tailored to meet specific business needs, ranging from freelance and full-time staffing to competitive analysis and structure mapping. We foster an environment of creative exchange, where information is shared, new ideas are pursued, and positive outcomes are achieved. To learn more about the Creative and Marketing team and the services we offer, visit our website. If you wish to connect with Hillary, please feel free to reach out via email or connect with her on LinkedIn.