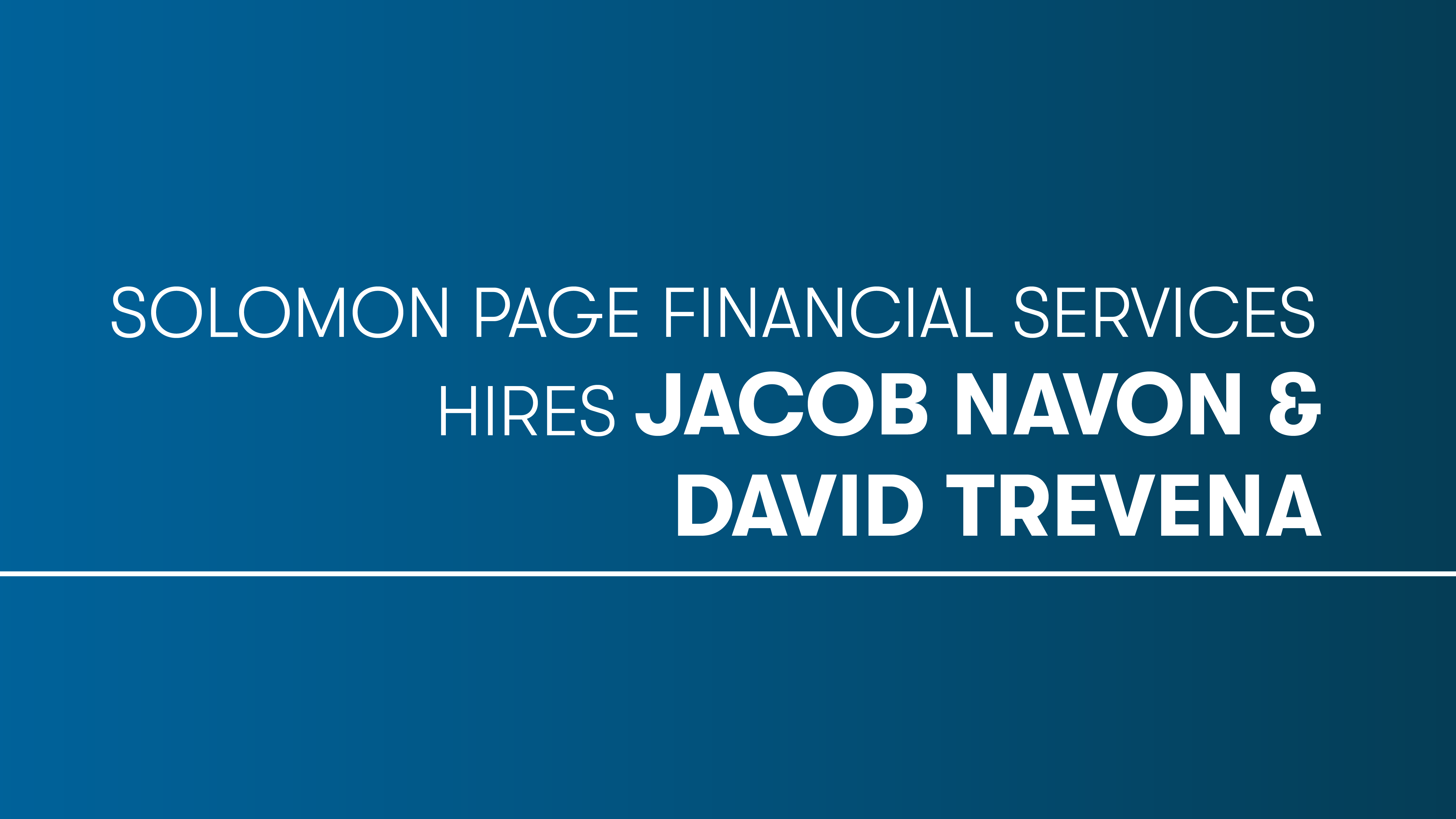 Company hires industry experts Jacob Navon and David Trevena to expand asset management executive search services
New York, N.Y. – Solomon Page, a leading staffing and executive search firm, drives expansion of its Financial Services division through the key hiring of Jacob Navon and David Trevena, who have recently been named global head of asset management and director of asset management, respectively. Reporting to Founding Partner & Managing Director Scott Page, the team will be based in the New York office and will help expand the Financial Services practice globally; partnering with asset management companies, including alternative asset managers and hedge funds, in building long-term team management strategies.
Joining a team of seasoned professionals, Navon and Trevena bring deep-rooted knowledge of organizational structure within the industry and decades of experience placing key leaders and driving team shifts within asset management. The team joins Solomon Page from Westwood Partners, where Navon served as partner for 17 years and Trevena served as principal for 15 years.
"Human Capital represents the most critical asset deployed by investment firms," said Jacob Navon. "I am truly privileged and extremely excited to be tasked to help diversify the Solomon Page Financial Services executive search division by penetrating the asset and wealth management sector further. David and I are certain that the firm's expertise in all organizational verticals will position us to deliver a comprehensive, robust, and versatile talent acquisition solution to our clients."
"The current evolution of the marketplace, particularly with the effects of COVID, prove that this is such an opportune time for organizations to assess their current leadership and organizational map, strategize how this looks in the year to come, and make key hires as a result," said Scott Page. "Jacob and David's longstanding reputations complement our integral position within the industry, and he will undoubtedly contribute to the continued success of our firm."
About Solomon Page
Founded in 1990, Solomon Page is a Manhattan-based recruitment firm with service offerings ranging from C-suite executive search to contract staffing across a wide array of functions and industries. The company has grown into one of the top privately held companies in New York with over 300 employees, 14 divisions, and 16 office locations across the U.S. and London. Solomon Page was recently named one of the Largest Executive Search Firms in New York and Top Privately Held Companies in the New York Area by Crain's New York Business, Best Workplaces by Inc. Magazine, and America's Best Executive Recruiting Firms by Forbes. For additional information, visit solomonpage.com.
-###-