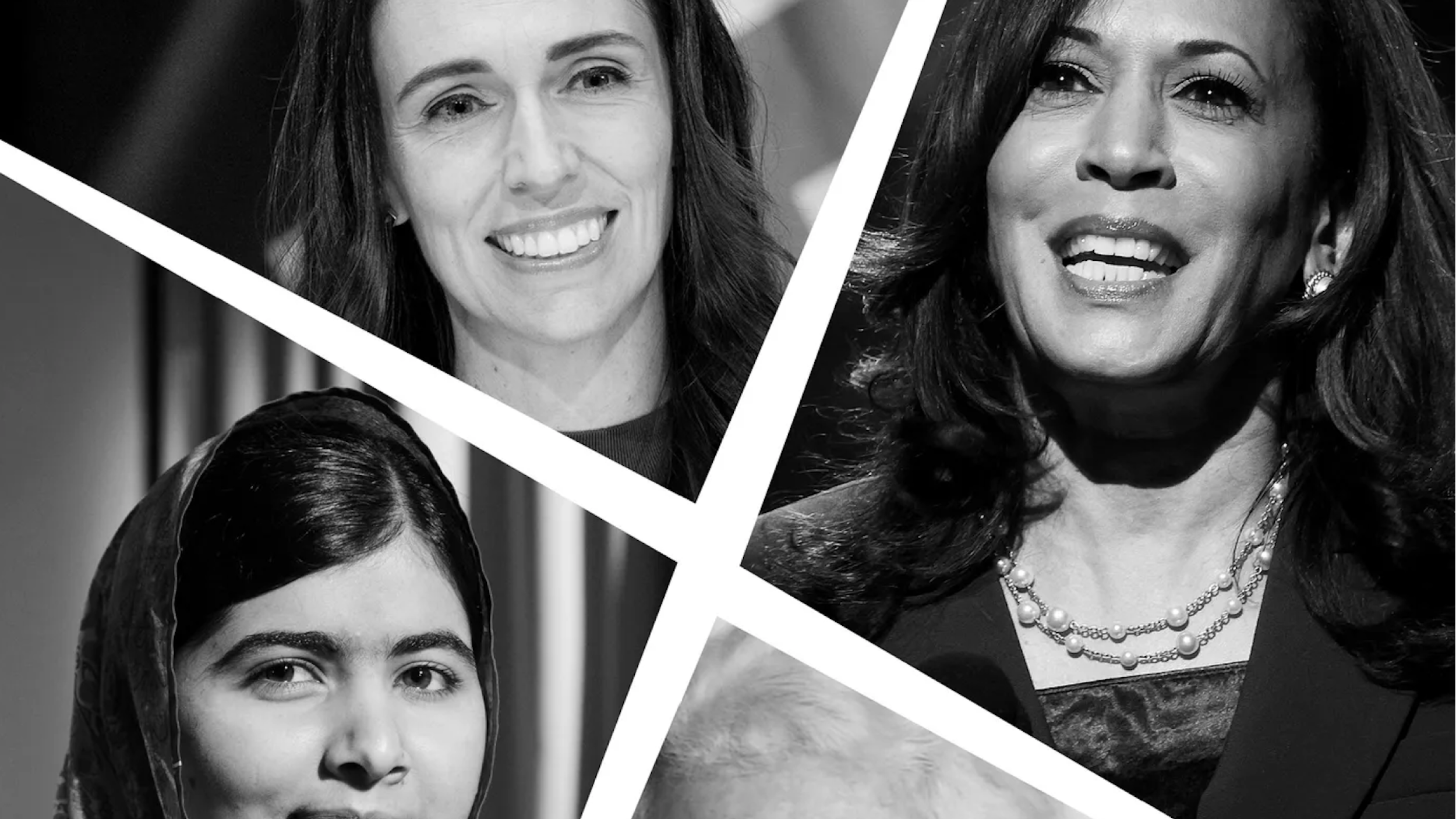 By Brooke LaMantia and Julie Ma
Photo Credit: Photo-Illustration by The Cut; Photos by Getty Images
Since 2018, a record-breaking year for women running for and being elected to office in the U.S., we've seen encouraging strides forward for females in leadership positions. In 2022, a record number of Black women are expected to run for office. In the U.S. today, 41 Fortune 500 CEOs are women; one-third of college presidents are women; and Deb Haaland, the first-ever female Native American Cabinet member, is making missing and murdered Indigenous women a priority for the Department of the Interior. As of September 2021, there are 26 women serving countries as heads of state and government — not to mention, the United States has enjoyed its first-ever female vice-president, Kamala Harris, for over a year now.
We have a long way to go, but we're getting there. Below, 25 formidable leaders from across various industries share their thoughts on power — how to define, attain, wield, and share it. Read on for collected wisdom from Jacinda Ardern, Cori Bush, Michelle Obama, and more.
Kamala Harris, Vice-President of the United States
"I hope that by being a 'first,' I inspire young people to pursue their dreams. The number of times I've heard the word 'no' — or that something can't be done — in my lifetime is too many to count. I'm honored to be considered a 'first,' but I always think about the people who came before and paved the way for me to get where I am today. From Rosa Parks to Shirley Chisholm to Congressman John Lewis, I stand on the shoulders of so many great men and women before me." —Harper's Bazaar, 2020.
Condoleezza Rice, Former U.S. Secretary of State
"Power is nothing unless you can turn it into influence. When people talk about management style, they're really talking about how someone uses power. I've been in positions where I had to be heavy-handed, and I've been in positions where I needed to bring people together and persuade them … But sometimes you have to make difficult decisions, and you have to make them stick." —Oprah, 2002
Sandra Day O'Connor, Former Supreme Court Justice
"For both men and women, the first step in getting power is to become visible to others — and then to put on an impressive show. The acquisition of power requires that one aspire to power, that one believe power is possible. As women then achieve power and exercise it well, the barriers fall. That's why I'm optimistic. As society sees what women can do, as women see what women can do, there will be even more women out there doing things — and we'll all be better off for it. Certainly today women should be optimistically encouraged to exercise their power and their leadership skills wherever it might take them." —The Majesty of the Law: Reflections of a Supreme Court Justice, 2004
Ruth Bader Ginsburg, Former Supreme Court Justice
"People ask me, 'When will you be satisfied with the number of women on the court?' When there are nine. For most of the country's history, they were all white men." —CBS Sunday Morning, 2016
Jacinda Ardern, Prime Minister of New Zealand
"One of the criticisms I've faced over the years is that I'm not aggressive enough or assertive enough, or maybe somehow, because I'm empathetic, it means I'm weak. I totally rebel against that. I refuse to believe that you cannot be both compassionate and strong." —New York Times, 2018.
Madeleine Albright, Former U.S. Secretary of State
"I have often been the only woman in the room and I thought to myself, 'Well, I don't think I'll say anything today because it'll sound stupid,' and then some man says it and everyone thinks it's brilliant and you think, 'Why didn't I talk?' If we are in a meeting, we're there for a reason. The bottom line is if you're only there, not speaking you kind of create the impression that you're not prepared to be there." —Time, 2017
Emmeline Pankhurst, British Political Activist
"Women are very slow to rouse, but once they are aroused, once they are determined, nothing on Earth and nothing in heaven will make women give way; it is impossible. And so this 'Cat and Mouse Act' which is being used against women today has failed." —"Freedom or Death," 1913
Elizabeth Warren, U.S. Senator
"If you don't have a seat at the table, you're probably on the menu. Washington works for those who have power. And no one gives up power easily, no one … Nobody's just going to say 'Women have arrived and let's just move over' … We have a chance but we have to fight for it." —Mother Jones, 2014
Nancy Pelosi, Speaker of the U.S. House of Representatives
"When I decided to run for leadership, people said, 'Who said she could run? Maybe you could just tell us some of the concerns that women have and we'll make some changes around here.' And I thought, You're not catching on … Power is not influence. You have people that'll have these magazine articles that will say 'The 100 Most Influential People in the World' and I'll look at it and think, That's interesting. That's influence. That's not necessarily power. Power is when you have the power, the ability to make change. Influence is important in making change, but power is where you have the tools and the capacity and the opportunity to do so. So being Speaker of the House, that's real power." —The Washington Post, 2016
Rosalind Brewer, CEO, Walgreens
"I think about: Have I been bringing enough people along? You can help a peer become a CEO … This is not a competition or a race. We're better when we move in herds. This is a time for leaders to really evaluate themselves and say, 'Have I really been the servant leader that I thought I was?'" —Forbes, 2021
Cori Bush, U.S. Representative
"I ran and I lost and I ran and I lost. I kept running because there was a mission behind it. It wasn't about me wanting to be somebody in Congress — I know some people have those aspirations — but, for me, it was more about the mission … I am who I am. I don't take off my activist hat to be able to legislate in Congress. And so that has been the guiding force this entire time." —The Guardian, 2021.
Mary Barra, CEO, General Motors
"Wherever you are in your career — your first position, or a manager, or even an executive — you have to be ready to stand up for yourself. But, it should be done in a firm but respectful way. Always remember, respect is earned. Learning to read the situation is also important. Most of all, never waver on integrity. If someone calls you bossy because you didn't let them push you around, so be it." —Refinery29, 2015
Melinda Gates, Philanthropist
"To me, empowerment means if a woman has her voice and her agency. Can she say what she thinks needs to be said in any setting? Does she have the agency to make decisions on behalf of herself and her family? If you sit on a corporate board and you don't think you can voice what you're seeing on that board or in that corporation that is wrong, then you don't have your voice … When a woman in the U.S. gets on a corporate board, when there's one of her, she's not going to make a change. When there are two or three, then she has agency and she has her voice because there's a power in the collective. Then they get the other men on the board with her who are also saying, 'Hey, we're seeing the same things,' and they come forward as a group. There's a power in the collective of the group. Men have had these natural networks for a long time. Women have tons of social networks, but it's not until you get them together, and get them together in the right way, that they give women their voice and their agency." —The Cut, 2016
Michelle Obama, Former First Lady
"For me, this issue has always been personal. See, back when I was a girl growing up in a working-class neighborhood, most of the folks I knew — including my parents — didn't go to college. But with a lot of hard work — and a lot of financial aid — I had the chance to attend some of the finest universities in the country. And I can tell you that education was everything for me. It opened doors. It gave me the confidence to pursue my ambitions and make my voice heard in the world. For me, education was power." —Playbill, 2016
Sonia Sotomayor, U.S. Supreme Court Justice
"I have a style that is Sonia, and it is more assertive than many women are, or even some men. And it's a style that has held me generally in good stead. There's nothing wrong with being a little bit quieter than me or more timid than me, but if you're doing it all of the time and not waiting for the moments where you need to be more assertive and take greater control, then you won't be successful. And I don't think I would have been successful if I didn't know how to soften myself and tone it down at important moments." —Der Spiegel, 2014
Sarah McBride, U.S. State Senator
"One of the really inspiring things is that as transgender people we can live our truth and still pursue our dreams. Growing up, that was incomprehensible to me. Seeing kids today who are both themselves and still dreaming big dreams demonstrates for me how far we've come. It gives me a lot of hope in these particularly challenging times." —Mother Jones, 2018
Malala Yousafzai, Activist
"Some people only ask others to do something. I believe that why should I wait for someone else? Why don't I take a step and move forward. When the whole world is silent, even one voice becomes powerful." —The Boston Globe, 2013
Loretta Lynch, Former U.S. Attorney General
"I think sometimes women face the very real risk of not being seen, and not being heard, and so that's why I always tell young women, make yourself seen, and make yourself heard — this is your idea, this is your thought. Own it, express it, be the voice that people hear." —The Washington Post, 2016
Sanna Marin, Prime Minister of Finland
"My background influenced how I see society, how I see equality between people. But it's not because I'm from a rainbow family that I'm in politics. I'm in politics because I thought that the older generation wasn't doing enough about the big issues of the future. I needed to act. I couldn't just think, It's somebody else's job." —Time, 2020.
Indra Nooyi, Former CEO, PepsiCo
"Just because you are CEO, don't think you have landed. You must continually increase your learning, the way you think, and the way you approach the organization. I've never forgotten that." —Fast Company, 2011
Angela Ahrendts, Senior Vice-President, Apple
"I have learned to listen and to hone my instincts, to be perceptive and to be receptive. To change. To constantly live in ambiguity. How else can leaders today look around the corner and warn others of what's coming? Only when you follow your instincts and continually renew your mind can your possibilities become realities." —TedTalk, 2013
Tsai Ing-Wen, President of the Republic of China
"I think that the society and our democracy are mature enough to place emphasis on the quality and the value of the individual politician, rather than their gender. Some people will find it fashionable to have a woman leader, but I think the reason people chose me as the leader of this country is because my policies and my values suit the needs of Taiwan today. We represent people who want to have change in the society." —The Washington Post, 2016
Maxine Waters, U.S. Congresswoman
"You know what I'm told? I'm told that there are so many people out there who believe they don't have power, that they don't have influence, and what they have to say doesn't make a difference. I would like, in the best way possible, to support people being able to think of themselves as people with influence and power." —Elle, 2018
Cynthia "Cynt" Marshall, CEO, Dallas Mavericks
"I want to make sure I do a good job, be a good role model, and show that it shouldn't be unusual for a Black woman to be in a job like this. We are capable. I want to make sure I'm working and others are working to cultivate the second, third, fourth, and fifth one that's coming. I want to make sure I'm not the last. I can't be the last, and I won't be the last. I know I won't be." —USA Today, 2021
Michele Buck, CEO, Hershey's
"Make an impact in every single assignment that you are given. Look at it as how can I take this to the next level. And be confident in yourself. I think women just don't have as much inherent confidence in themselves. They tend to be harsher critics of themselves than they need to be. So go for it." —Fortune, 2018
For the original article, visit: thecut.com