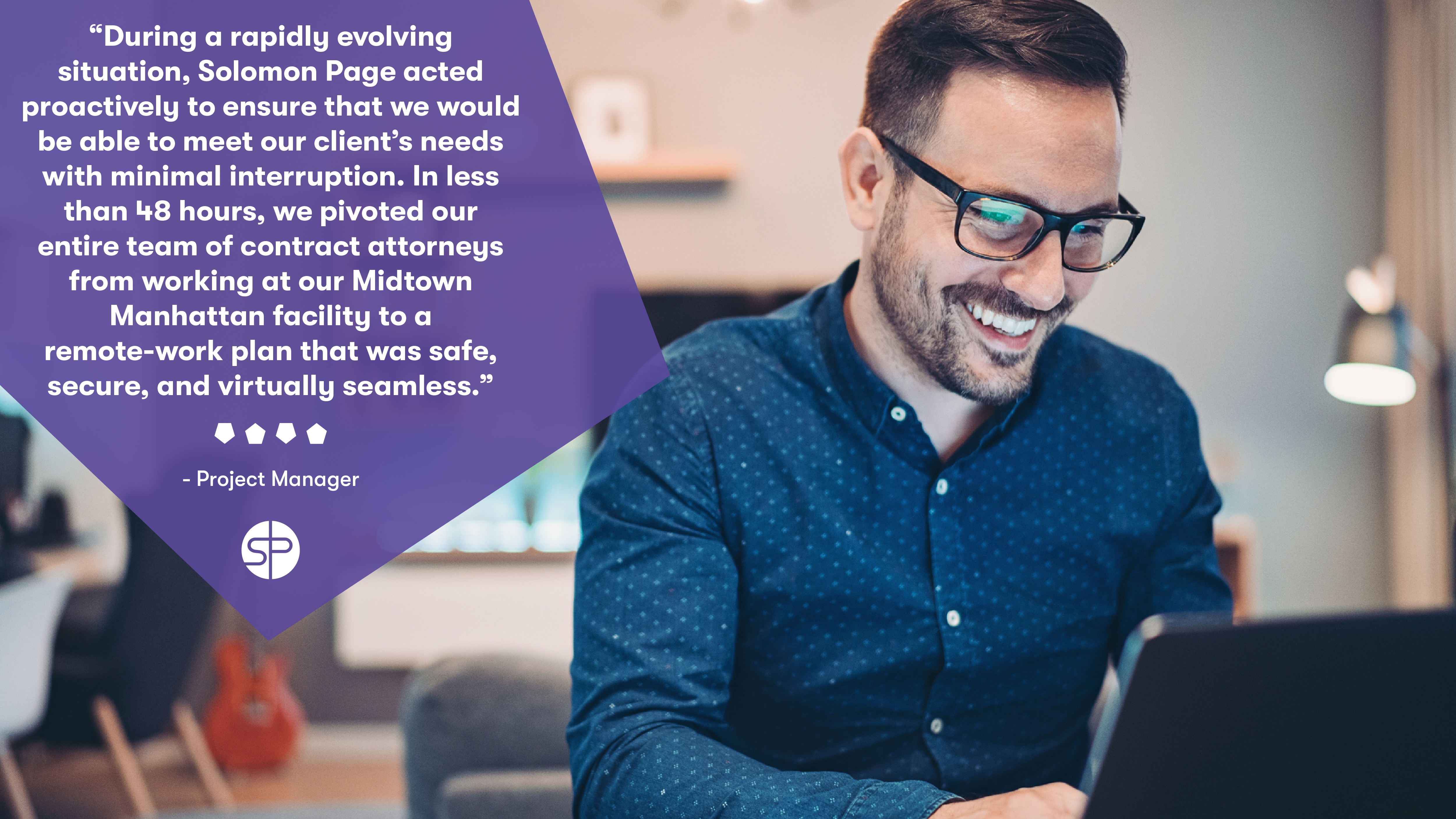 With the rapid evolution in the workplace and an ever-changing environment, we wanted to let you know we are here for you and prepared to respond whenever you need us. In the short-term Solomon Page has Contract Attorneys equipped and ready to work remotely to support the continuity of your business, including for virtual document review.
Why Virtual Document Review could be right for your organization:
Safe option to promote Social Distancing
Quick turnaround of team/resources
Typical costs associated with traditional on-site review are saved
But don't just take our word for it...
"During a rapidly evolving situation, Solomon Page acted proactively to ensure that we would be able to meet our client's needs with minimal interruption. In less than 48 hours, we pivoted our entire team of contract attorneys from working at our Midtown Manhattan facility to a remote-work plan that was safe, secure, and virtually seamless. Employing remote teleconferencing, productivity, and collaboration technologies, we have kept remote workers engaged and productive. Remote review attorneys can easily pose questions to each other, as well as our client law firm attorneys. Productivity and work product continues to remain consistent allowing a large review involving a high-profile matter to stay on schedule during unprecedented circumstances." - Project Manager
"As the current Covid-19 crisis unfolded, we were in constant contact with Solomon Page concerning their plans for operating in a remote work situation. Once it became apparent that maintaining an onsite review environment wasn't feasible, given CDC guidelines and state directive, Solomon Page went to a completely remote work environment over the course of a weekend. Their detailed planning and testing access from Friday to Monday meant that their reviewers did not miss a beat on their assignments and all reviews proceeded unencumbered." - Law Firm Client
"Solomon Page is without doubt one of the best companies to work at in the legal industry. What sets them apart from the rest, is Julie Favetta and Alex Gordon's commitment to ensuring a collegial work environment with enthusiastic attorneys and remarkable Review Managers on every case. In addition to offering competitive pay, they genuinely care about employees and are invested in their success. It's been an absolute pleasure to work for them from the onset and watch them grow the company over the years." - Contract Attorney
"As a result of COVID-19 crisis and to ensure the safety of its employees, Solomon Page swiftly transitioned its operations to working remotely. Within hours of the client's approval, Solomon Page provided all attorneys with secure laptops to access the review database and email system. Solomon Page Legal, IT, HR Departments and Review Manager have been available for any questions and to provide support. The entire process was executed effortlessly and allowed us to efficiently continue our review. I greatly appreciate their prompt and seamless response in such crucial times." - Law Firm Client
For more information, or to discuss a Virtual Document Review of your own, please contact: legalservices@solomonpage.com.