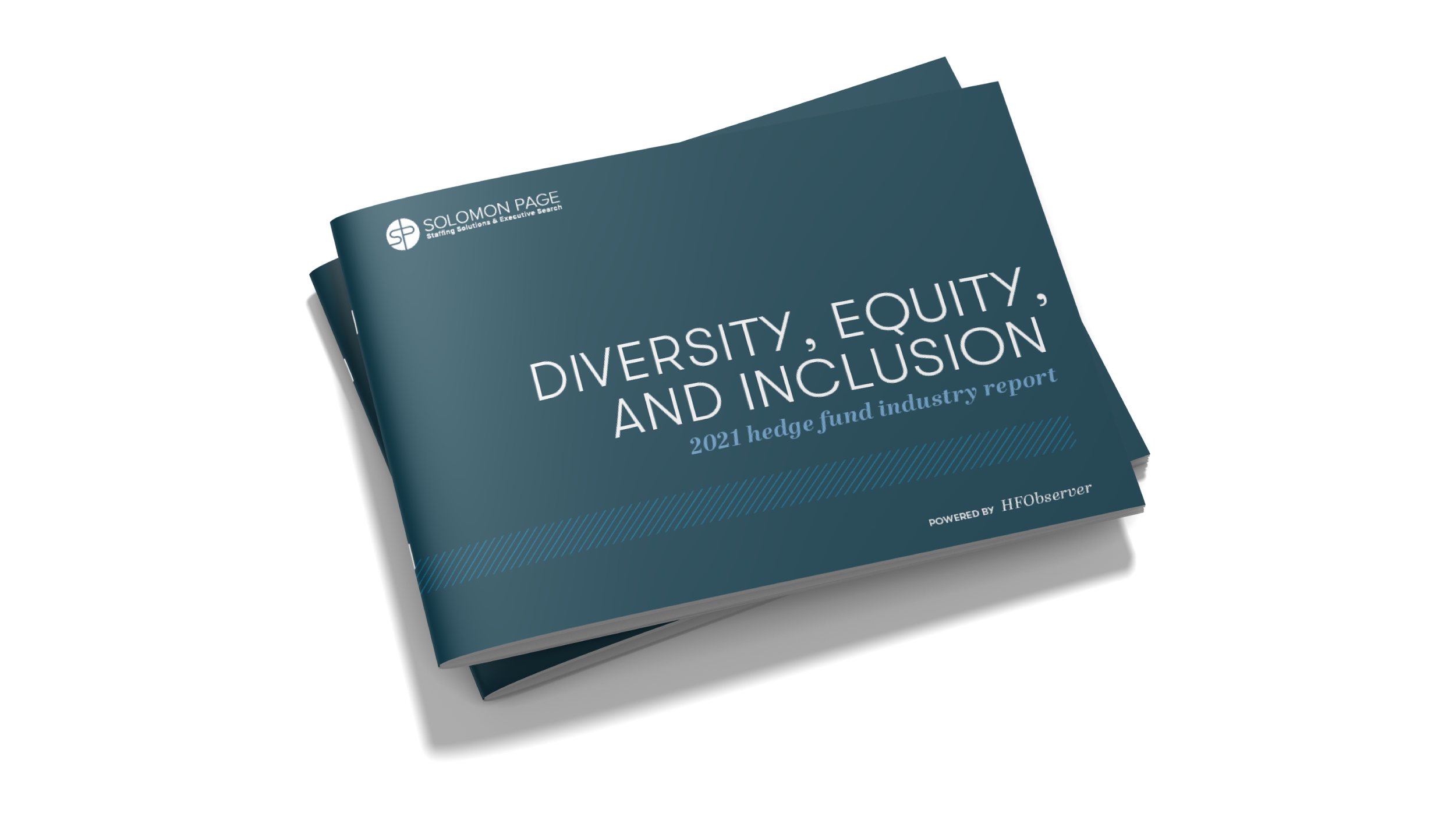 New York, N.Y. – Solomon Page, a leading staffing and executive search firm, announces the release of its 2021 Hedge Fund Diversity, Equity, and Inclusion Report, written by Solomon Page Global Head of Asset Management Jacob Navon and Solomon Page Managing Director of Asset Management Claude Schwab. The report was developed in response to DEI inquiries received from the Solomon Page network of financial services contacts, including hedge fund executives, investors, and alternative asset manager allocators.
"Diversity, equity, and inclusion efforts have become a subject of intense interest to global hedge fund industry professionals," said Navon. "Despite this, it is no secret that financial services companies, and hedge funds in particular, are not diverse. The key question we continually asked ourselves while developing this report was, are firms doing anything to address it?"
To answer this question, a powerful reporting methodology was developed by HFObserver (HFO), who Solomon Page partnered with exclusively to collect and analyze the data presented in the report. HFO analyzed over 4,300 personnel moves of full-time hedge fund professionals during the period between July 1, 2020 and June 30, 2021, in order to address the question whether they recruited or promoted talent in a manner designed to promote diversity, equity, and inclusion.
"The aggregate data at the geographic, gender, race, and functional role levels masked important anomalies that can only be teased out by looking at the data in much sharper focus and greater granularity," said Schwab. "For example, when roles such as analysts and client-facing functions were further sub-categorized by specific responsibilities and skill sets, the gender and race divide swung dramatically from the picture painted by the aggregate data for each category."
The findings conclude that despite the industry pushing towards greater diversity recruiting, and hoping for meaningful change, hedge fund hiring and promotions during the 12-month period studied were not aligned with this objective, despite a few noteworthy exceptions, including:
• Gender was relatively more balanced in risk management, legal, and compliance functional areas.
• In the U.S., Blacks were better represented within HR, recruiting, administrative, IT, and tech support roles. Hispanics and females were also hired or promoted in these functions at a higher rate, in addition to trade support.
• In both the U.S. and Europe, Asians were hired by hedge funds at rates that were significantly higher than Asians' representation in the working age populations of both regions. In the U.S., this rate was four times (25% vs. 6%) higher, while in Europe it was almost double (15% vs. 8%). Asians were especially highly represented in coveted investment functional roles at all levels. Notably, 55% of Quant Analysts hired at hedge funds in the U.S. were Asian – the one instance where a minority had a larger representation than the majority.
• In Asia, hedge funds hired or promoted females at much higher rates for more senior-level roles than in the U.S. and Europe.
Looking forward, the company seeks to partner with individual firms to provide a detailed analysis of how their DEI hiring trends compare to their competitors. "By taking a granular, consultative approach, we hope to deliver further insights and advice on DEI hiring strategies for the future," said Solomon Page Founding Partner and Managing Director Scott Page. "As a leader in the hiring space, we understand our unique position to promote and support workforce diversity. The marketplace is ready to evolve, and we hope to make a positive impact."
To download the full report, visit: Hedge Fund Diversity, Equity, and Inclusion Report.
About Solomon Page
Founded in 1990, Solomon Page is a Manhattan-based recruitment firm with service offerings ranging from C-suite executive search to contract staffing across a wide array of functions and industries. The company has grown into one of the top privately held companies in New York with over 300 employees, 14 divisions, and 16 office locations across the U.S. and London. Solomon Page was recently named one of the Largest Executive Search Firms in New York and Top Privately Held Companies in the New York Area by Crain's New York Business, Best Workplaces by Inc. Magazine, and America's Best Executive Recruiting Firms by Forbes. For additional information, visit solomonpage.com.
About HFObserver
HFObserver provides comprehensive real-time data on human capital developments in the alternative asset management industry. They achieve this objective using a systematic approach to track talent developments at the industry, firm, and individual level. HFO has a network of experts and a unique data methodology to optimize firm benchmarking and talent insights. Beyond providing a lens to examine DEI issues in hedge funds, the methodology highlighted in this report can be utilized more broadly to address a wide range of questions pertaining to the movement of human capital in the economy.
For additional information, visit hfobserver.com.