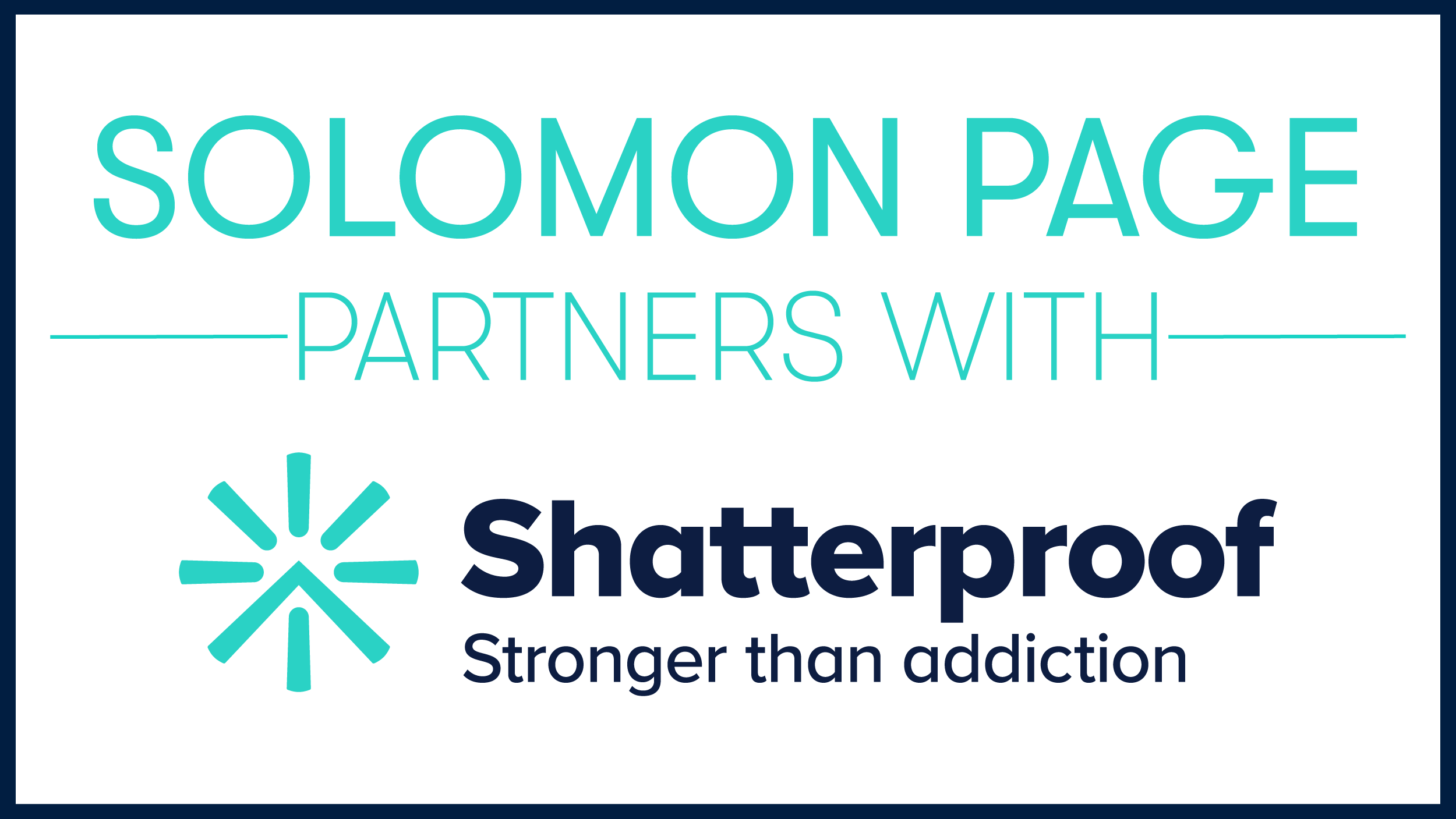 Connecting with individuals around the corner or across the country is integral to Solomon Page. Advocacy within our communities makes us stronger. Fulfilling this mission with our SP Cares initiative allows us to remain loyal to the communities we serve. Our January and February fundraiser for Shatterproof, a national organization committed to ending addiction through advocacy and educational resources, was widely successful and opened many conversations within our organization. In addition to fundraising efforts, Solomon Page had the opportunity to interview Lauren Lawson-Zilai, Senior Director, Media and Public Relations for Shatterproof, to learn more about the organization's mission and in turn, help spread awareness.
Shatterproof, founded by Gary Mendell, grew out of a father's love and loss for his son. Gary's son, Brian, was a loving child. Like many teenagers, Brian tried alcohol and drugs. And like many others, this led to addiction. Brian battled this disease including shame, isolation, and failure for nearly 10 years and on October 20, 2011, Gary received a phone call that Brian had died. Following Brian's death, Gary struggled to understand what happened and turned to a period of reflection and research to begin understanding addiction in the United States and its existence within the healthcare system. Making a promise to his son and legacy, Gary sought ways to spare others from this tragedy. In 2012, Shatterproof was launched as a national nonprofit seeking to revolutionize substance use disorder treatments and end social stigma, creating impactful change within the United States.
Personal Solutions for a National Crisis
Substance use disorder is known on a national scale; however, it is yet to be fully or accurately discussed in most social settings. The numbers are impossible to overlook as more than 46 million people aged 12 or older met the criteria for having a substance use disorder over the past year and more than 100,00 deaths occurred due to drug overdoses in 2021. The national scale of addiction may seem overwhelming for many individuals, but each person can make changes to better support their loved ones.
Lauren Lawson-Zilai stated, "A person can support someone by changing their tone and approach. This is a learning and healing process and not a one size fits all disease. People can listen non-judgmentally and by referring loved ones to professionals - not being the problem solver, but rather their friend and colleague. Also, not intentionally shaming them if they relapse and confide in that person, but by being a listening ear and again offering to help them find treatment if they ask for help in finding it." By acknowledging the diverse human experience of addiction, the disease is not then seen as a moral failing, but as a deeply personal experience for everyone involved. Lauren also emphasized, "People are discriminated but substance use disorder does not discriminate. It affects everyone across the spectrum: people in low-income, middle-class, and in high-income brackets as well as across party lines."
Persistence and dedication are pivotal in eliminating the stigma and discrimination associated with substance use disorder for all people. Shatterproof outlines, evidence-based strategies are crucial to establishing impactful programs, "Shatterproof's statewide stigma reduction campaigns leverage the following core tenants of successful behavior-change movements: collective impact, person-first language education, evaluation for continuous improvement, contact-based strategies, and tailored messaging." By highlighting narratives from community members, this resonates with local needs and allows individuals to connect with neighborhood organizations seeking to end addiction and associated stigma.
Extending Shatterproof's promise nationwide, the organization has created many public educational resources and lessons. The Shatterproof Treatment Atlas (Addiction Treatment Locator, Assessment and Standards), is a confidential, free, nonprofit platform to help people find and compare treatment facilities, which allows individuals to make an informed choice. Shatterproof Treatment Atlas is available to 128 million people. Currently, the platform is accessible in ten states including, Delaware, Florida, Louisiana, Massachusetts, New Jersey, New York, North Carolina, Oklahoma, Pennsylvania, and West Virginia. The platform will expand to California, Connecticut, Indiana and Wisconsin later this year. The platform uses a comprehensive list of addiction treatment providers across each respective state, including inpatient, residential, intensive outpatient, and outpatient sites of care. Shatterproof Treatment Atlas displays transparent information outlining the facilities offerings that align with evidence-based, best practices shown to improve patient outcomes.
Shatterproof's Advocacy
Shatterproof has remained dedicated to highlighting the research within this field and areas that can continue to be studied to better understand substance use disorders. Shatterproof outlines a potential area to continue studying is the effectiveness of Medication Assisted Treatment (MAT) and how MAT works within the brain. Combining community-focused programs and evidence-based research supports Shatterproof's efforts to illuminate the effects of addiction in the United States through advocacy changes. Shatterproof has utilized scientific research to help implement three major federal policy changes and 34 state policy changes. Recently the organization has worked closely with the American Society of Addiction Medicine on the Medication Access and Training Expansion Act that was signed by President Biden in late 2022. Shatterproof's tireless work of advocating for social and political change through evidence-based research furthers mainstream access to substance use disorder treatments nationwide.
Continuing the Conversation
Shatterproof's educational tools serve as a resource to begin conversations about addiction with your friends and family. Shatterproof states, "Words have the power to build up or destroy a person and it's important for people to know that mental health struggles and/or substance use disorder is not a character flaw. Individuals should be conscious of their word choice and model recovery language to avoid stigmatizing language." Substance use is treatable, but empowering individuals is key to beginning a substance-free journey. Improving personal interactions and communication can greatly impact an individual with a substance use disorder. To improve our communities, we must continue to support those around us.
Your support for Shatterproof can extend beyond monetary contributions or utilizing their educational resources. Shatterproof's annual walk series encourages people to join in 7 cities including Boston, Chicago, Dallas, Washington, D.C., Los Angeles, San Francisco, and New York, or through its virtual Walk Your Way program. The walk series, held in Autumn, is a day for communities to unite and celebrate those living in recovery – bringing hope to the millions who are still suffering, and honor those who have lost their lives to this disease. To learn more about the event and get involved, visit Shatterproof Walk for more details.
We would like to thank Shatterproof and Lauren Lawson-Zilai for contributing to this article. Our communities are essential to our organization, and we are honored to share their voices. Follow Solomon Page to learn more about our work with nonprofits nationwide.
Connect with Shatterproof on: