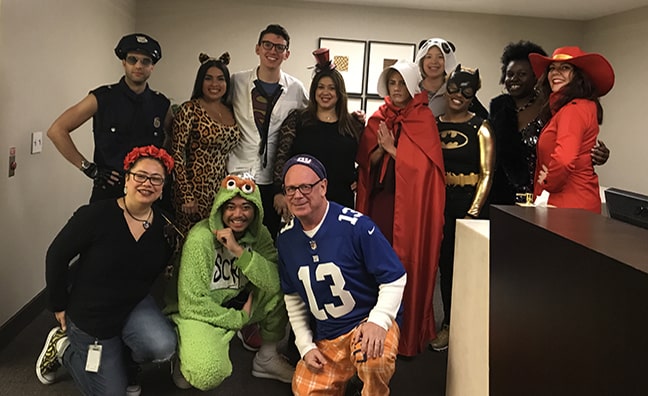 Last Friday, Solomon Page celebrated Halloween with a fundraising event we called "Freaky Friday," fostering team collaboration and excitement for a great cause. Collectively our offices surpassed all three tiers of our fundraising goals—sponsoring underprivileged children through our charity partner, Save the Children.
By surpassing our first two donation milestones, Lloyd Solomon and Scott Page agreed to wear Halloween costumes and spend the morning working our reception desks. With guidance from our lead receptionist, Cassandra Brown, they did just that. Because we exceeded our highest donation goal, all employees were able to participate by dressing up in costume (imagine superheroes, animals, TV and cartoon characters, and more…recruiting for a day!).
All of this was made possible by the heartfelt contributions from our teams, and, as a result, we get to positively influence the lives of children less fortunate. Save the Children sponsorship gives children the gift of brighter futures; the organization provides tools that empower entire communities to better support their children's health, education, protection, and growth—thereby breaking the cycle of poverty for generations to come.
The costumes, charitable spirit, and the collaboration made Freaky Friday a huge, enjoyable success!