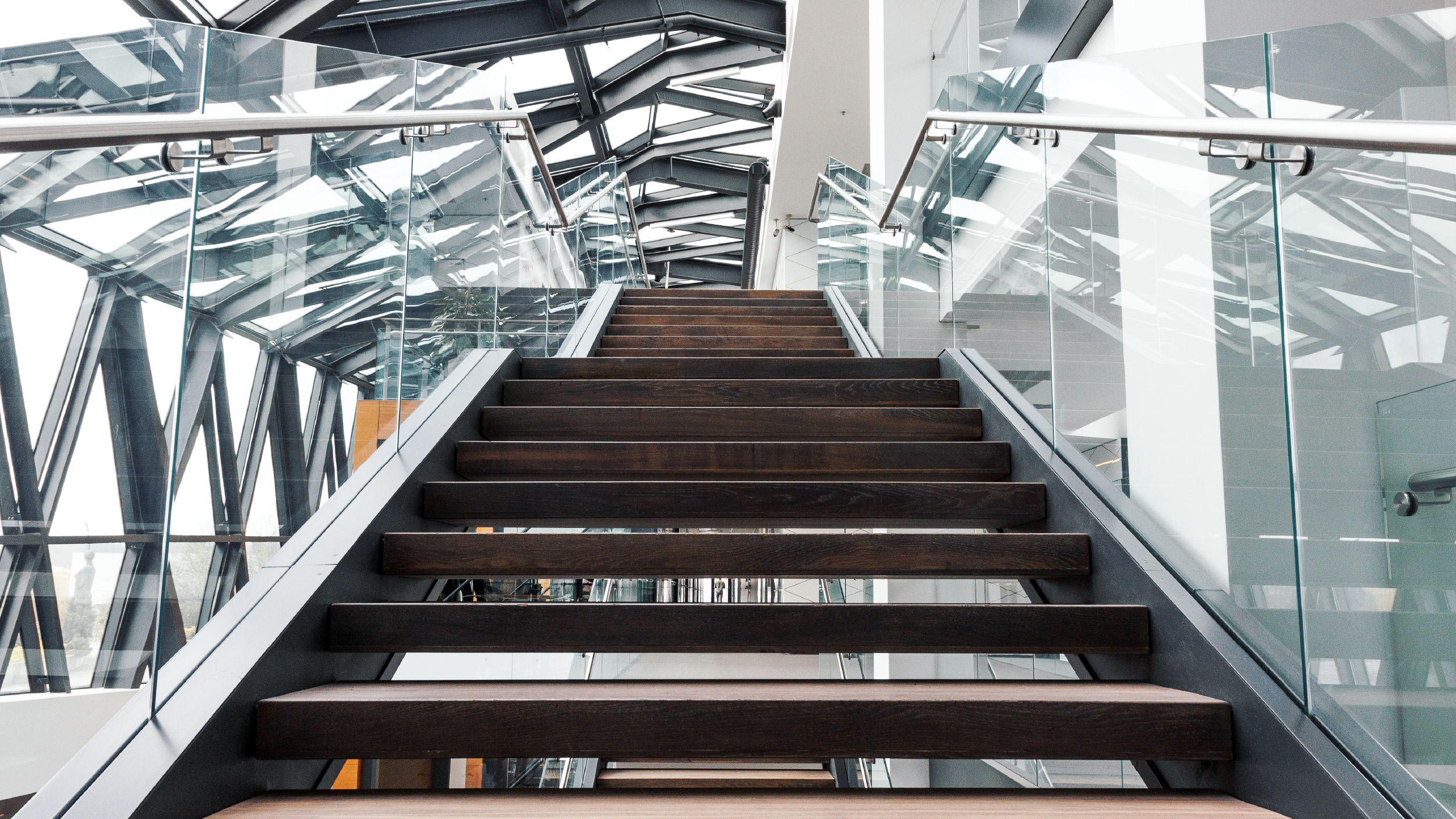 By Laura LeBleu
New research highlights the challenges and opportunities of real-time work transformation.
"So, how's everyone doing?"
Pre-pandemic, this breezy inquiry kicked off many a group meeting. These days, as we muddle through the collective weirdness of 2020, the question can feel awkward if not downright loaded. Still, as we near the end of a radically disrupted year, it's an important question to ask.
To get a sense of how employees—both everyday workers and executive leaders—were acclimating to a changing workplace, we commissioned The Work Survey. Our partner Wakefield Research surveyed executives and employees in 11 countries across multiple industries to find out what's working, what isn't, what stays, and what goes.
The data is a snapshot of digital transformation in a time of crisis.
Undeniable innovation
Survey respondents agreed that COVID-19 had created the perfect environment for innovation. Nearly every exec reported rethinking how they worked. Most employees welcomed the change.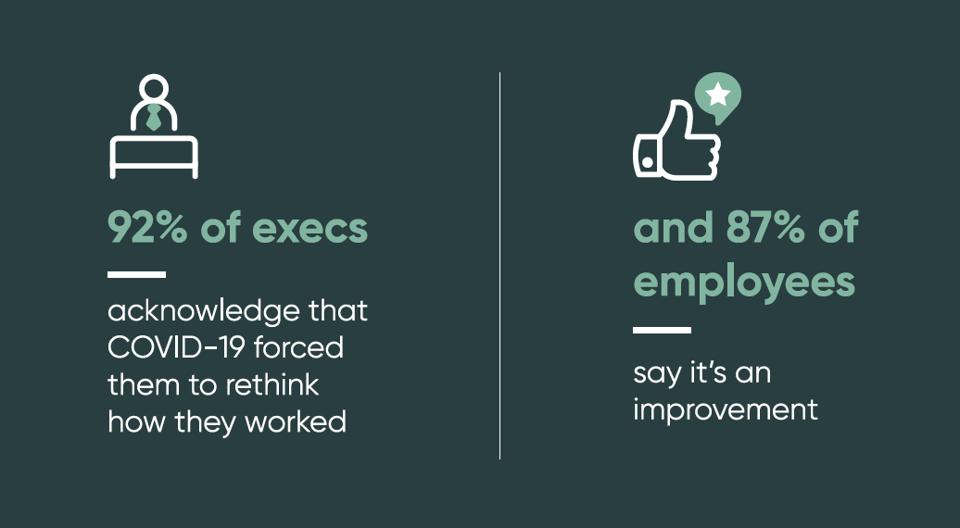 Photo Credit: ServiceNow
In addition, 91% of execs and 87% of employees said they had pivoted to new ways of working faster than expected.
The disruption divide
There is disagreement on whether companies should return to the pre-COVID status quo going forward. Our survey found the majority of employees want to maintain new ways of working, while almost half of the executives hope to return to the old normal.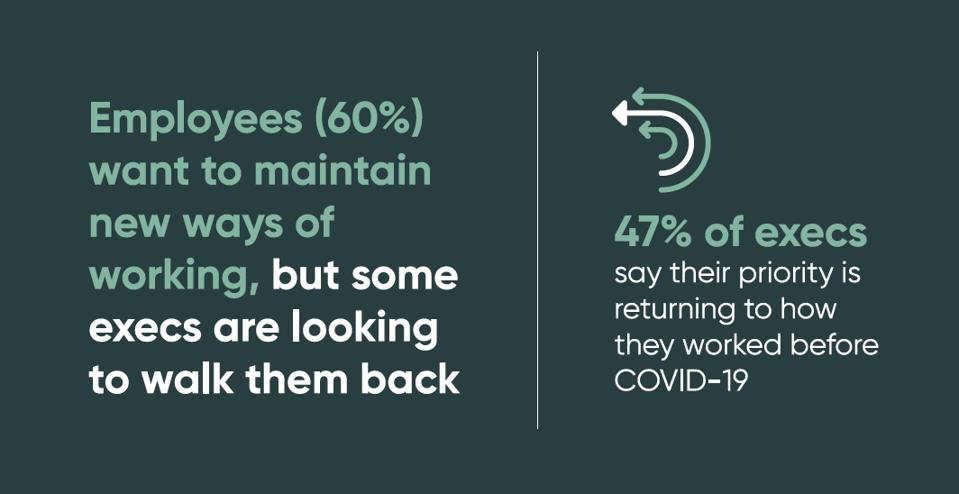 Photo Credit: ServiceNow
[Go deeper. Read the full research analysis here.]
Safety first?
One eye-opening finding was that employees and executives are both skeptical that their companies will take the necessary steps to ensure their personal safety in the workplace.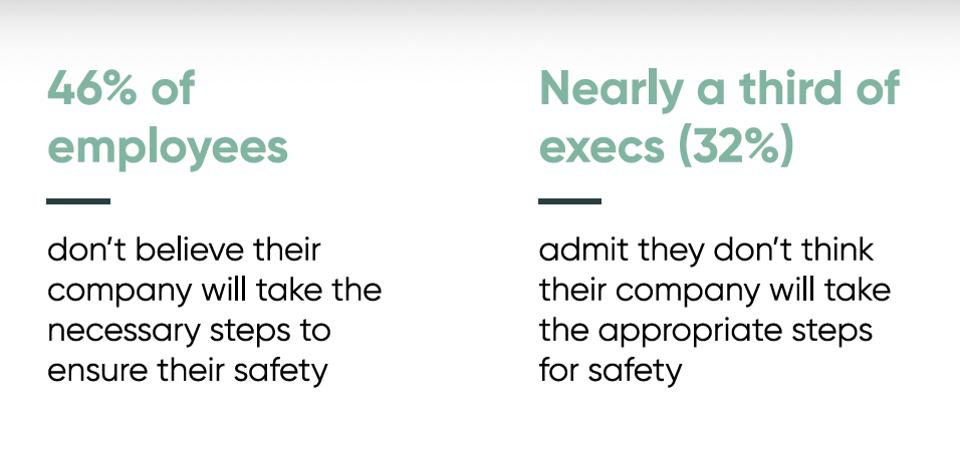 Photo Credit: ServiceNow
Shockingly, the data shows that 60% of employees—as well as 44% of executives—believe their company will prioritize business continuity over workplace safety.
A line in the sand
These safety concerns, along with the flexibility and convenience of working from home, prompted a majority of employees (55%) in the survey to say they will only stay with their company if it provides flexible working hours, and nearly half (47%) want guaranteed remote work. Even so, both employees and executives are concerned about the impact of remote work on the business.

Photo Credit: ServiceNow
However, employees and executives have different concerns about remote work. The data shows that execs are most worried about delays in product or service delivery (54%), while employees focus on reduced opportunities for collaboration (48%).
Investing in the future
When it comes to managing the day-to-day flow of office-based knowledge work, there's a long way to go. In fact, 91% of executives admit that they still have offline workflows, including document approvals (51%), IT workflows such as security incident reports (45%), and technology support requests or processing (42%).
Perhaps that's why executives and employees both prioritize investing COVID-related operational cost savings into digital transformation.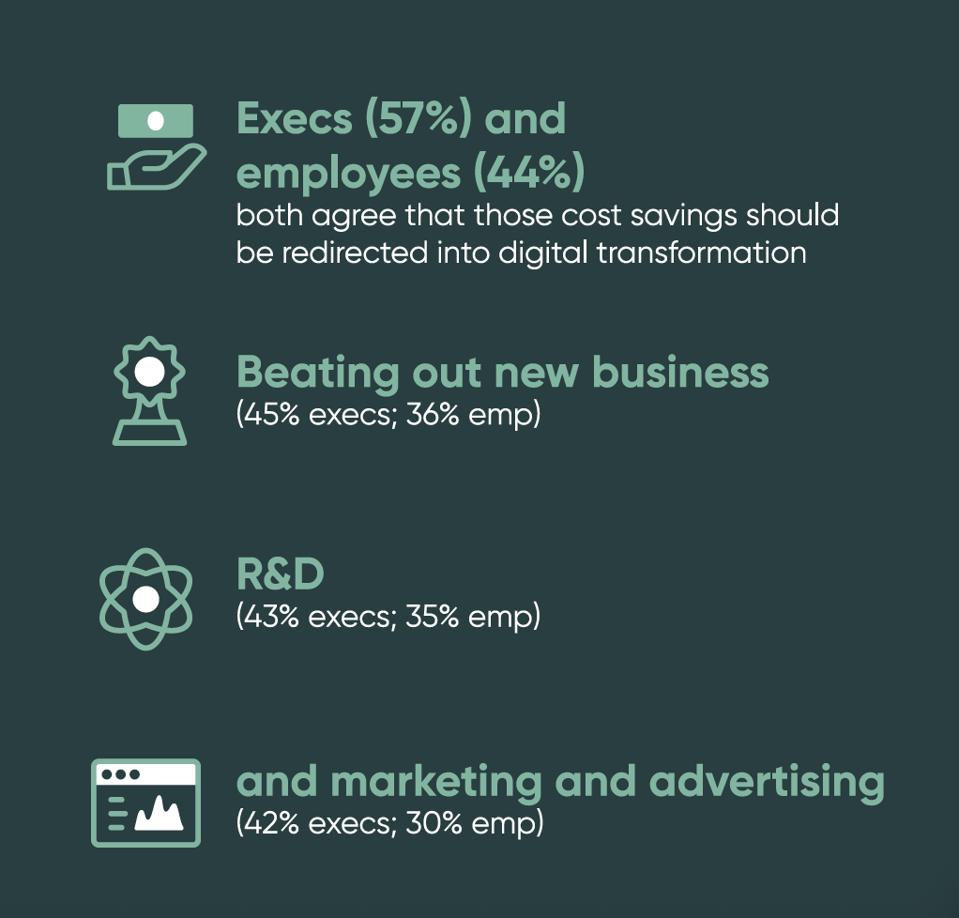 Photo Credit: ServiceNow
The innovation age
As digital workflows replace manual, in-person interactions, the work evolution is bound to accelerate. This result could be a new age of innovation—but only for companies with the technological infrastructure to embrace rapid change.
COVID-19 has cracked the traditional world of work wide open in ways no one expected. It has also created opportunities to reinvent work in ways that work better for everyone.
For the original article, visit: Forbes