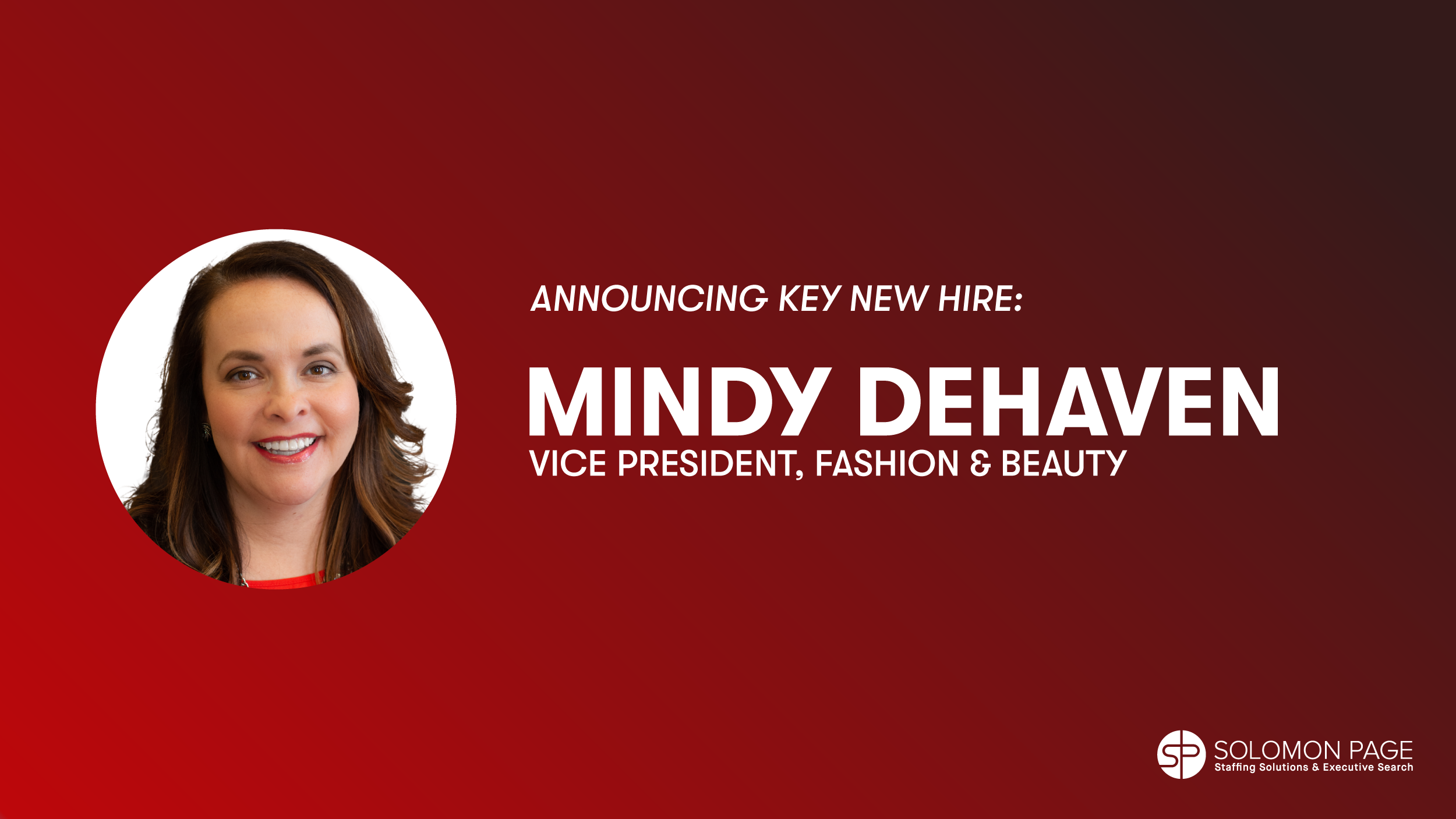 Responding to hiring needs in retail, consumer products, and beyond, Solomon Page continues to expand its Fashion and Beauty Perm division. With a longstanding presence at the company, the team specializes in connecting exceptional ecommerce, design, marketing, merchandising, and production talent with prominent international brands. In pursuit of continuing to build the business, Solomon Page has recently hired Mindy DeHaven as Vice President, reporting to Managing Director Sue Lamoreaux. Mindy will leverage her 20 years of recruiting and business development experience to expand the company's service offerings by providing technical and scientific recruiting for cosmetic brands, manufacturers, and suppliers. Through this relationship-driven approach, the team strives to grow its practice and develop deep-rooted connections, driving innovation and growth within the fashion and beauty industry.
Prior to joining the Solomon Page Fashion and Beauty Perm team, Mindy served as a Managing Partner with a boutique recruiting agency, and focused on direct hire placements and business development for consumer product brands and manufacturers. Leading the health and beauty division, she specialized in executive-level roles in research & development, quality, regulatory, and engineering. Previous to this role, Mindy held a sales and marketing position working for an agency that specialized in retained executive search. Throughout the past two decades, Mindy has been exposed to all the intricacies of recruiting as well as the niche processes of the consumer product industry – making the expertise and insight she is bringing to the Solomon Page Fashion and Beauty Perm team invaluable.
As subject matter experts immersed in the industries they support, the Fashion and Beauty team can provide an informed perspective that will not only encourage organizational continuity but also provide market intelligence. Combining historic insight, trend awareness, and progressive thought, the team delivers high-quality candidates that will be successful within their position over the long-term. Each assignment is treated with an understanding that combines the technical requirements of a role with the cultural qualities of the organization.
For more information on Solomon Page Fashion and Beauty services, please visit https://solomonpage.com/fashion-beauty/ or contact hello@solomonpage.com. To connect with Mindy, email mdehaven@solomonpage.com or follow her on Instagram @colorfulheadhunter.