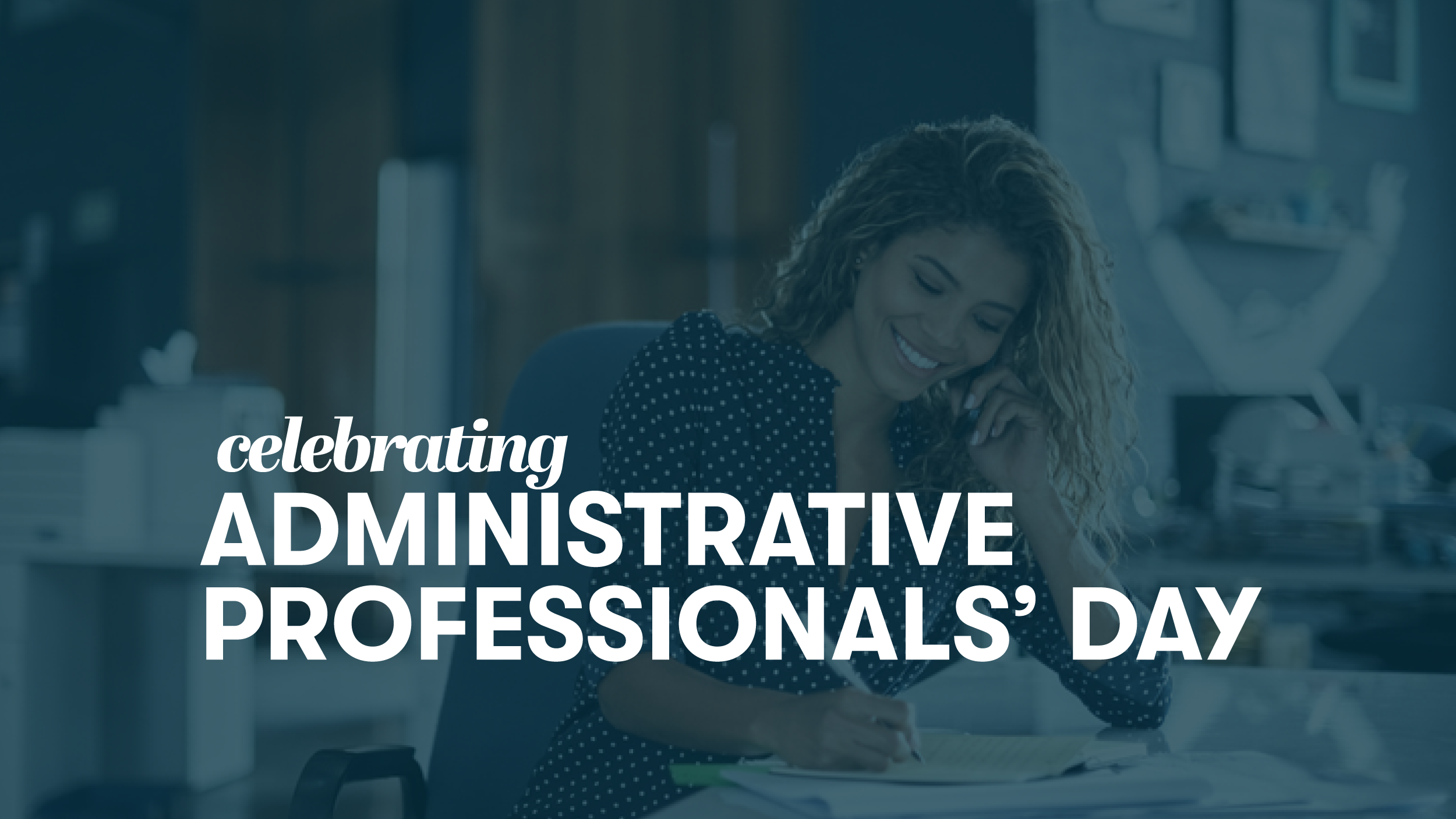 Administrative Professionals' Day is this Wednesday, April 27th! Celebrating and showing gratitude for their efforts, we are sharing special shout-outs about admins and support employees who have made a particularly positive impact at Solomon Page:
Kelly Adams: Executive Assistant
"Kelly brings so much positivity to our team and it does not go unnoticed. Her commitment to excellence is unparalleled and she is always willing to lend a helping hand, day-in and day-out. Thank you, Kelly, for being such an integral team member – we wouldn't know what to do without you!"
Stephanie Schroeder: HR Operations Manager
"Stephanie is a machine who can knock out any task. She is the absolute GLUE of our team. She's truly one in a million and we appreciate her so much!"
Kathy Swanson: HR Staffing Manager
"For over 10 years at Solomon Page myself and my San Diego colleagues have been treated to professional excellence with unmatched consistency by Kathy Swanson. Her ability to toggle back and forth between our retained search model in the healthcare practice and the nuances and expectations that go along with that, and then pivot to Accounting/Finance Temp & Perm and not miss a beat is a skill set she has mastered to the highest level. Our clients constantly tell us how great it is to work with Kathy. We are happy they are happy. But we're the lucky ones--we experience Kathy's wisdom, care, integrity, and can-do attitude every day. Thank you Kathy!"
"Kathy is on the other side of the country and does a million things in the San Diego office, wearing multiple hats. Yet, she will still go above and beyond to help colleagues in other offices even though it cuts into her time. She never complains. She is phenomenal and a true treasure in this business."
Lorenny Acosta: HR Staffing Coordinator
"Lorenny stepped up in the middle of the pandemic when she was asked to transition from a recruiter role to our HR Staffing Coordinator. She is the ultimate team player and always pitches in to help or volunteers without being asked. She is the anchor of our operation and we appreciate her immensely."
"Lorenny was a Godsend to the Fashion & Beauty Freelance division. With multiple changes in our HR Staffing Coordinator role, Lorenny jumped in to help and train on all levels. She set Jordan up for success. She is a true team/company player! Thank you Lorenny for all your time and support!"
Lucille Zhang: HR Staffing Coordinator
"Lucille is our very own energizer bunny. Always on the go, multitasking and addressing work related issues at lightning speed. It is a huge thing to know that any contractor payroll/timesheet/onboarding/background check issue will be followed up until resolved. That is so appreciated! Starting her first corporate role in the middle of a pandemic with almost none of her team onsite to guide her and be there for her to absorb it all is tough. But that is Lucille. She is Queen Tough and we appreciate her so much."
Cassandra Brown: Head Receptionist
"Cassandra is the oil that keeps the office engine running. She does so much behind the scenes. Where would we be without her?"
Jordan Luzzo: HR Staffing Coordinator
"The Fashion and Beauty division was blessed to have Jordan join our team. We had gone through a year of multiple changes in the HR Staffing role and once Jordan joined, we were back in the game."
"Jordan is a superstar! She came in to the HR position on the Fashion and Beauty team with not much experience. We desperately needed HR help and Jordan went above and beyond. She handles our almost 300 consultants seamlessly and makes it look easy! She is the best."
Michael Raver: HR Staffing Coordinator
"Michael has been with us for many years. He has been an invaluable resource for our team and is able to make sure that the whole team is taken care of. He not only handles everything we throw at him, but he's also extremely proactive and comes up with ideas to streamline our work and make us all more efficient. We are grateful for his hard work and loyalty."
Ellyse Burnett: Executive Assistant
"Ellyse is a hard working, driven, and caring Admin. She has helped myself and our team become more successful and is always willing to help out in any way she can!"